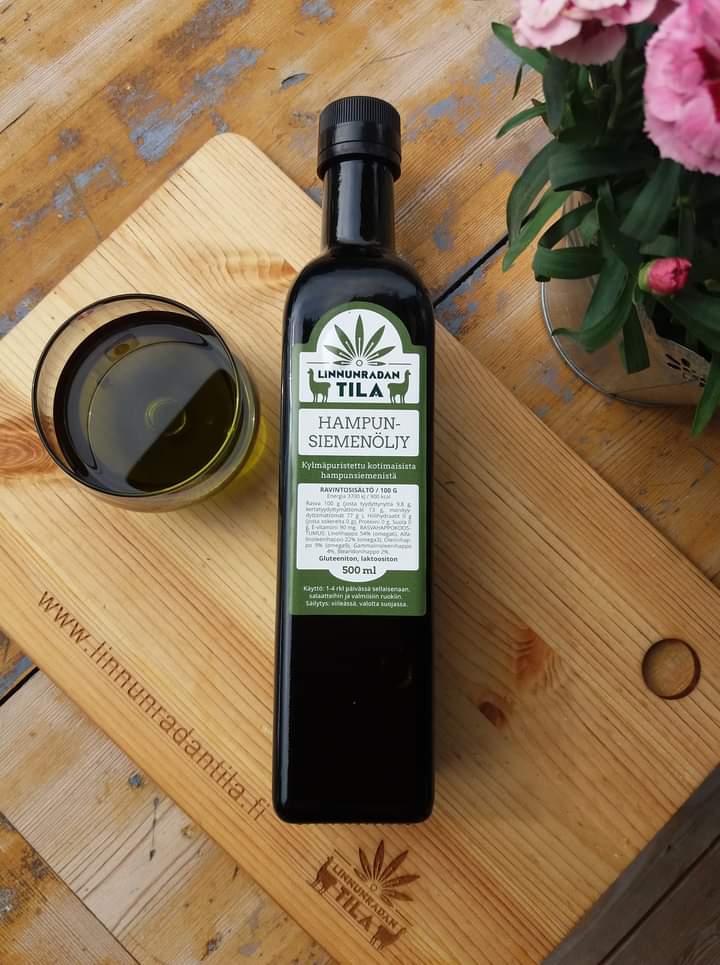 The Arctic Food Lab community keeps growing and has most recently been joined by the farm Linnunradan tila (Milky way's farm) from Tyrnävä. The farm specialises in growing hemp and raising alpacas. Among its Arctic Food Lab products are food products homemade in Kempele and bakery goods made using hemp and sold at the farm café, which is open during the high season. Entrepreneur Sanna Siira says she developed the idea by herself.
The farm shop Sateen Tupa is open as agreed, during events and the seasonal cafés, the Summer Café and the Winter Café, are open during high season. The Christmas café in Sateen Tupa shop is open on Sundays 27 Nov and 11 Dec 12pm–2pm and during the Christmas week on Wednesday 21 Dec and Thursday 22 Dec 12pm–2pm.
Siira says the idea behind her farm Linnunradan tila came from her own interests. Hemp cultivation is ecological and offers an efficient way of binding carbon. All parts of the plant can be utilised by various industries.
"Both hemp as a plant and alpaca as an animal are very ecological species to grow and produce and support the principles of sustainable development."
Besides producing wool and serving as a therapeutic animal, alpaca can also be used in natural and effective landscape management. Through animal-assisted activities, alpacas bring joy and new experiences to people.  Siira says both hemp and alpacas support human health and wellbeing in a most natural way.
"My love of nature and animals is at the core of my business. When you are passionate about something, your story will be authentic and interesting. There is very little training available specifically on these two species, only on the more general level of farming, product development, service design and animal care. Being an entrepreneur has as such taught me a lot."
Siira has originally trained as a designer and she also holds a master's degree in the arts from the University of Lapland and a rural entrepreneur qualification. She says her journey has sometimes been one of a fighting windmill but she has never lost her passion.
"The prejudices against hemp products only show how important it is to share facts and information.  I feel I've been a pioneer in this field in Finland. Alpaca is also a relative new animal in Finland and as an alpaca farmer it is my task and responsibility to support others to understand the natural behaviours of the alpaca."
From field to table
Siira's products awarded the Arctic Food Lab label include cold pressed hempseed oil, whole hemp seeds, hemp meal and Sira's hemp and apple granola. The seasonal cafés serve bakery goods made with hemp, such as hemp rolls, hemp seed crispbread and garlic hemp oil for a garnish. The growing season for hemp is long and it makes efficient use of the light northern nights. Linnunradan tila is a family farm with an artisanal approach to production: oils are pressed to demand to ensure that it is always fresh and of the highest possible quality.
"It is the quality and taste that make our products so unique. We have received positive feedback for the mild and soft nutty flavour of our hemp oil. The hemp variety (Finola) has been developed here in the north, under the arctic sun, which gives the products a unique taste."
The company cultivates the hemp in Tyrnävä and all products are handmade in Kempele. Siira says the company is in charge of all aspects of production including the product development, visual identity, marketing, advertising and sales as well as deliveries.
"We control the entire chain from field to table. We work with a select group of local collaboration partners, who use our hemp food products in preparing their products. In our café products, for example, we use locally produced or at least Finnish ingredients whenever possible."
Our products are deeply local in character. The raw materials are produced and processed locally. The company also aims to source all packaging, labels and other additional materials locally. They also invested a few years ago in a new building to house the café and farm shop as well as the food production facilities.
"The building is made of Finnish timber and built by local builders. We prioritise local and Finnish producers and partners in everything we do."
Genuinely local
Even though the use of domestic raw materials or services can increase production costs for certain products, Siira is committed to delivering the highest possible quality and supporting local enterprises.
"Locally produces food is clean and authentic. In other words, you know where something was made and produced and by whom. The chain is transparent, and one should also not forget the importance of ensuring that Finland remains self-sufficient."
For Siira, the purpose of using and displaying the Arctic Food Label on products is to immediately tell the customers that the products are authentic and locally made. The label promotes local and Finnish work and production. Siira hopes that the label is a strong enough signal to steer the choice of the customer towards the labelled products.
"I also want the label to communicate that the product and service has been created here, in our unique Arctic environment. It also speaks to our respect of nature, that our production is carefully thought out and the entire production chain of our products is sustainable."
Siira hopes to see the local food culture develop so that local ingredients would become an even more prominent part of the offering in companies and public organisations such as the meals served in schools, nurseries and workplaces.
"I want to see us favour Finnish work even more and to forage and utilise natural herbs to a greater extent."
In addition to the farm shop, the products of Linnunradan tila are also available through the Reko network of local food companies and Pohjolan Lähiruoka online shop as well as various local retailers from Raahe to Kello.
Linnunradan-tila (linnunradantila.fi)
Alpacafarm visit and walk in forest – Kempele 
---
The Arctic Food Lab offers northern Finnish flavours and experiences. It is a brand dedicated to the food of northern Finland showcasing products and ingredients grown and produced in the region. The Arctic Food Lab programme shows the richness of northern Finnish cuisine and the vast potential of the pure, Arctic ingredients through local high-quality, uncompromising expertise. Look for the Arctic Food Lab label on packaging and products in restaurants and shops. The Arctic Food Lab label helps visitors from near and far recognise and learn about locally produced food and the local food culture. The Arctic Food Lab is part of the Oulu 2026 European Capital of Culture programme. Want to know more? Contact Niina Keränen