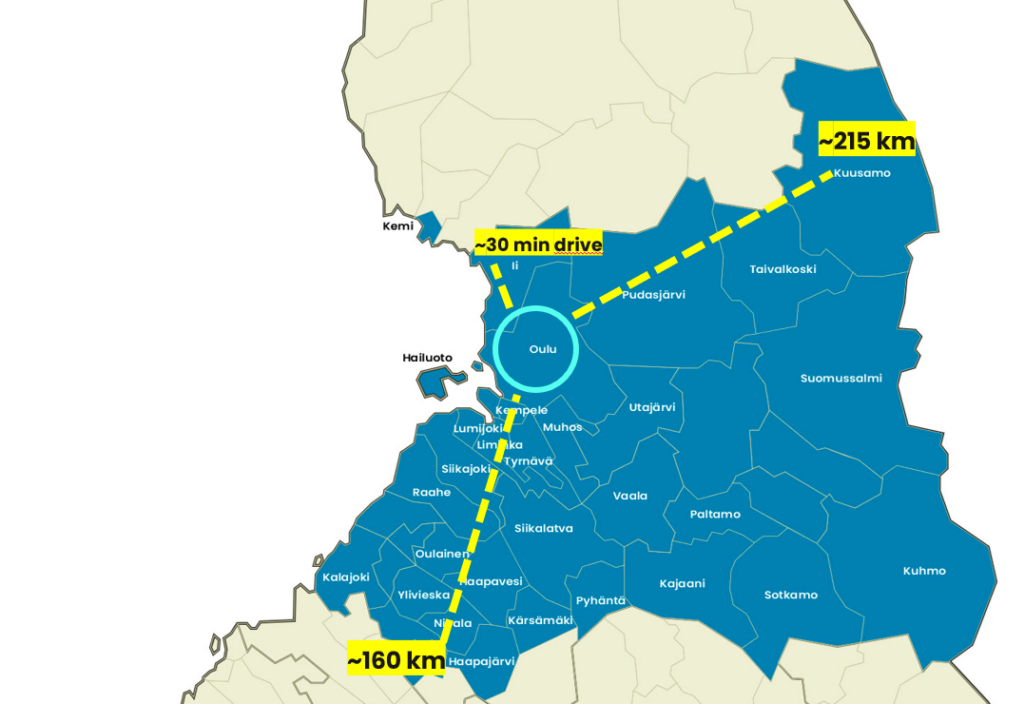 39 cities and munincipalities
Oulu is the core city for the development and delivery of the European Capital of Culture year, but we also want to include the wider "Oulu region" which covers a total of 39 municipalities and cities.  A shared history and traffic network connect the cities in our region. This gives us a fascinating project area located between the borders of Russia and Sweden.
The area is broad also geographically: it includes cities and municipalities from Kainuu, Sea Lapland as well as from Northern Ostrobothnia. Work to win the competition for the title of cultural capital and the journey towards the year 2026 demands investments from the entire northern implementation area. Luckily there is a strong desire for collaboration as the involved municipalities are excited about including their cultural projects into the programme. The commitment to the shared values of the activity, such as social and ecological responsibility, has also been unanimous. 
Oulu2026 region includes Ii, Pudasjärvi, Hailuoto, Kempele, Lumijoki, Liminka, Tyrnävä, Muhos, Siikajoki, Raahe, Kalajoki, Oulainen, Ylivieska, Sievi, Pyhäjoki, Pyhäntä, Ristijärvi, Haapajärvi, Nivala, Haapavesi, Kärsämäki, Siikalatva, Vaala, Utajärvi, Paltamo, Puolanka, Suomussalmi, Kemi, Tornio, Kuusamo, Taivalkoski, Kajaani, Sotkamo, Kuhmo and Pielavesi.

Oulu2026 region part of the Open Call
The collaboration between the City of Oulu and Oulu2026 regions can mean for example planning together new art and cultural content for the year 2026 based on the cultural heritage of the area, local food culture, or for example the unique nature trails.  The contribution of a partner municipality can also be an independent project, or a collaboration with local operators; for example, a festival for which something special is developed for the cultural capital year as a part of the Oulu2026 programme.
Geographically Oulu2026 region is like Finland in miniature with all its delicacies, nature destinations and unique people. Pudasjärvi and Kuusamo can offer a genuine Lapland atmosphere. We have lakes and a unique archipelago as well as the fascinating frozen sea in winter. Combine this with our excellent transport connections and suddenly a trip to Europe's hinterland is not so far away after all. The region has versatility; the surrounding waters, nature, villages and urban cities, northern lights, nightless summer nights and quiet, peaceful tranquility.
The Open Call 2022 offers an opportunity for international applicants to participate to the culture programme of 2026 in Northern Finland. The proposed and selected projects must take place entirely or partly within the Oulu2026 project region. The Oulu2026 team will offer support, if needed, in finding local partners or collaborators from the Oulu2026 region. The Open Call will close 9th December 2022, for more information please visit the Open Call page