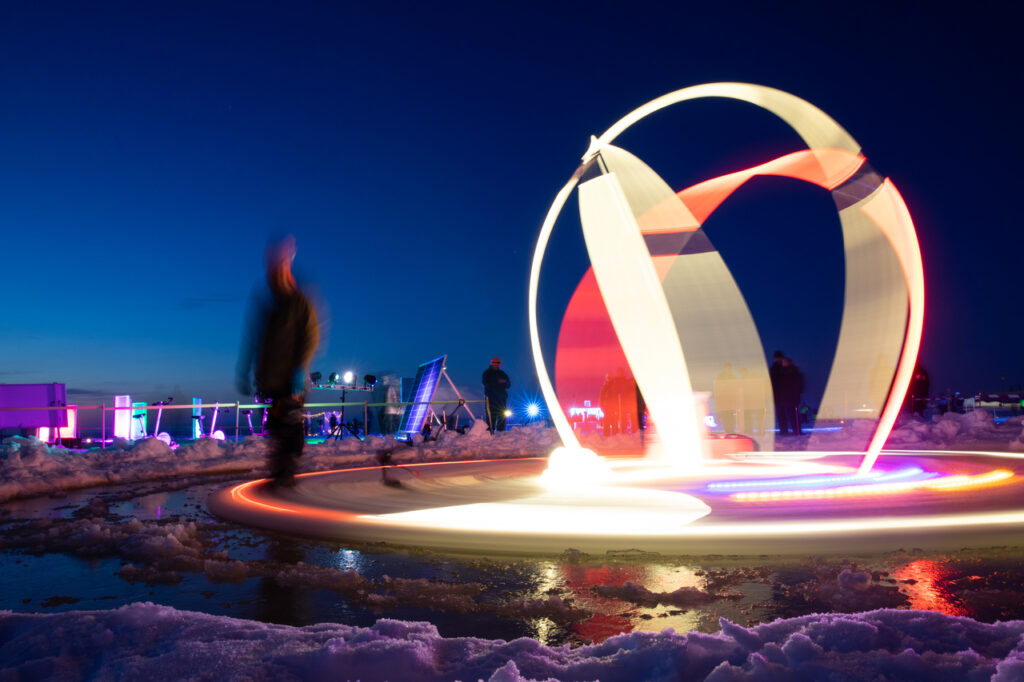 Frozen People, a festival of electronic music and northern art and style, takes over Oulu's iconic Nallikari in early March. Braving the elements, the unique winter festival will be staged on sea ice. Taking place on 4th March, the festival features a headline act from Tarto, a 2024 European Capital of Culture. In the future, the call for the festival's artistic programme will be extended internationally and feature even more international top names of electronic music.
The festival is inspired by the Burning Man Festival held in the Nevada Desert in the US.
"Like the Burning Man, Frozen People will be held at a surprising location braving the elements. The event brings together free-thinking artists and trendy revellers to celebrate art, creativity and self-expression," says Heikki Myllylahti.
The event organisers have their eye on the European Capital of Culture year 2026
The Frozen People is now organised for the second time: organised at a challenging location, it takes long-term planning, experimenting and learning to make it work. The event will be further perfected in 2024 and 2025, leading up to March 2026, when the festival will be one of the key events in the Oulu 2026 programme. In 2026, Oulu's Nallikari and the frozen seafront will be transformed into a gigantic stage for art and music.
"We have seen how Finns have embraced the various light festivals and how they have changed our view of culture and art in the middle of the dark winter. The role of Oulu Urban Culture and the Frozen People festival is to do the same and create a new Arctic art and culture identity for Oulu," says Myllylahti.
This year's festival programme is a versatile feast of electronic music. During the day, audiences can enjoy more light-hearted house rhythms, and at dusk the mood will turn more magical with some live performance, until the darkness descends and the more intense techno beat takes over. The festival will feature both new and familiar names from Oulu together with guest acts from Helsinki, Turku, and Estonia.
In addition to music, the festival site features several art works. The frozen Nallikari landscape will serve as a backdrop for inviting installations and performance art, soft spaces, encounters and interactive light art.
The event is produced by an extensive collaborative network. The food and drink will be provided the Oulu2026 Arctic Food Lab, the LUMO light festival produces Niko Tiainen's light installation and the Estonian Merimelli act is generously sponsored by the Tartu2024 European Capital of Culture organisation. The event is also sponsored by Nallikari Holiday Village, Oulun Energia, and Hongisto Oy.
The admission-free festival is part of the Oulu2026 cultural programme and cultural climate change. The festival is organised by Oulu Urban Culture ry.