We give our support to Oulu2026!
We are proud to say that our Sister Cities support Oulu2026 and cultural climate change. Together we made this dream come true!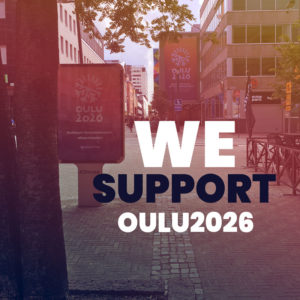 Odessa, Ukraine
Odessa has an official twinning agreement with Oulu since 1957.
Odessa, a city celebrated in cinema and literature, is the top tourist destination of the Black Sea and the maritime capital of Ukraine. Thanks to its port system, Odessa is an international logistic hub.
With a population of almost exactly a million, Odessa is famous for its cultural heritage, the sophisticated gastronomy and the sparkly nightlife, which created the myth of the "Pearl of the Black Sea". Above all, its worldwide fame is due to the cinema masterpiece "Battleship Potëmkin" (Ejzenstejn, 1925), with the unforgettable scene of the massacre on the stairway, which is still Odessa's main landmark. Indeed, it was the Hollywood of Soviet Union.
Boden, Sweden
Boden is one of Oulus Twin Cities. In Boden we live by the terms of Närhetsliv. By that we mean the life where you are close to everything that is important and a little more – the children's activities, your job, schools, cultural events, attractive house plots, shopping and experiences close to nature.
We say that Närhetsliv is for everyone. Regardless of age, gender, ethnicity or sexual orientation. Regardless of whether you come here from Luleå, Oulu or Somalia, we will create an inclusive climate where everyone feels a sense of belonging, security and an opportunity for development. Therefore, it is logical that people come here to start a business, study indie game development, to seek a new lifestyle or just to visit. We hope to see you here!
Luleå, Sweden
With a population of around 78,500 Luleå is the largest city in Swedish Lapland. Here you will find shopping, entertainment, nightlife and a wide array of White Guide listed restaurants, all located in close proximity to the world's largest brackish water archipelago with 1,312 islands, rivers and a vast forestland.
Luleå is a place of seasonal contrasts – from snow, cold temperatures and a frozen sea in winter – to sunshine, warmth and midnight sunlight in summer. From September to March one can, under good conditions, spot the fabled northern lights, Aurora Borealis.
Leverkusen, Germany
Leverkusen is young, much younger than most other towns in Germany –the town became only 90 years in 2020: officially founded in 1930, but the set up for the later town already took place in 1860 with pharmacist Dr. Carl Leverkus establishing a company for the colour ultramarine. Being self-confident he named the growing surrounding housing estate with houses for the workers and social institutions close to his company "Leverkusen". This name was taken over also by the company, which from 1891 on in a short period raised up to become one of the biggest and modern chemical plants in the world. Leverkusen then developed very fast from a rural town on the Rhine to a Global Player. This story still has a deep influence.