A new "African Cultural Festival" will be organized in Oulu this summer with the theme 'The Colors of Africa'. The event is organized by Africans in Oulu community.
"This is one of the most important events for Africans living in Oulu region and it also promotes the diversity of Oulu's culture scene", says Ojuolape Akinwunmi, founder and CEO of the community.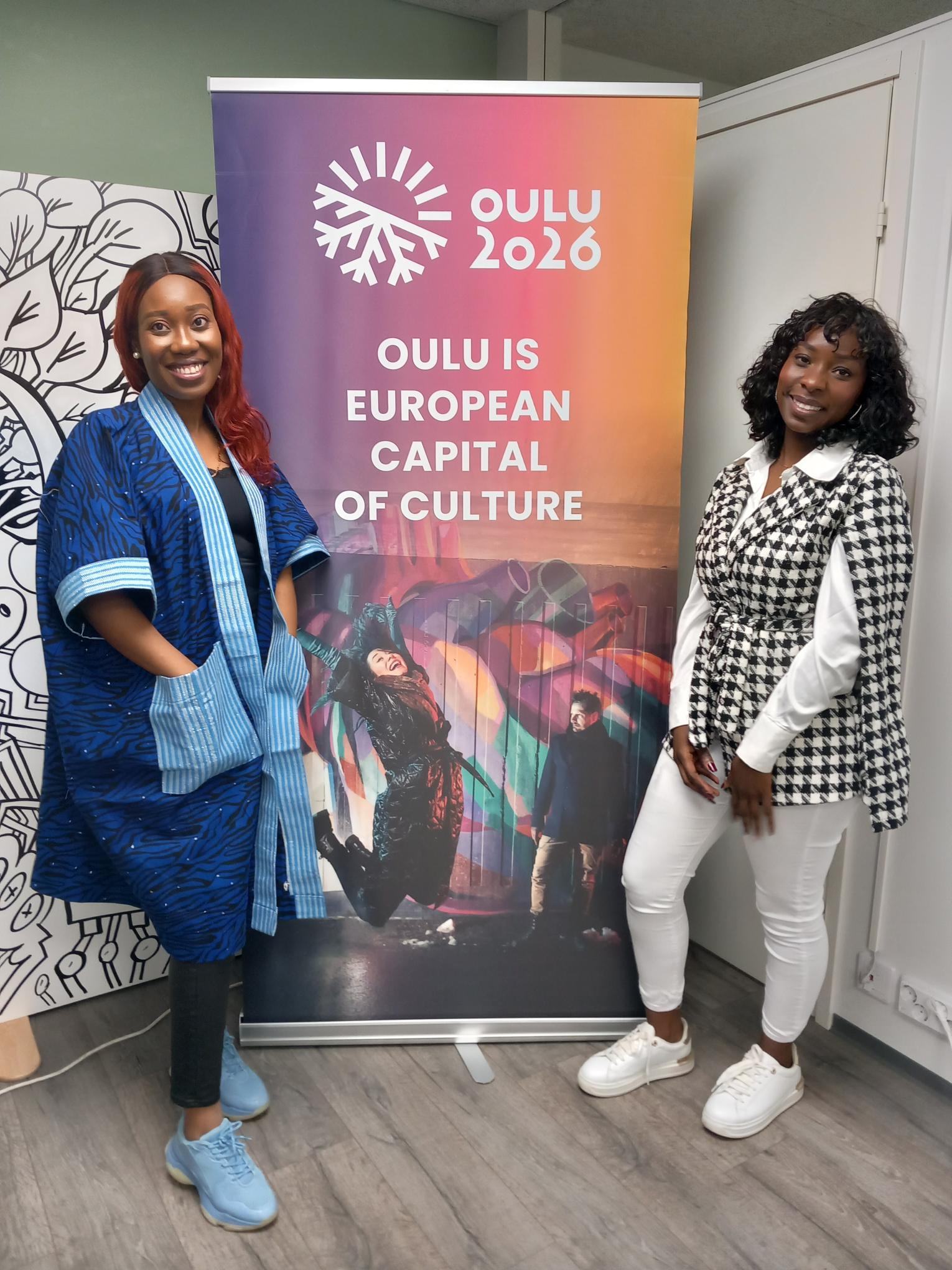 Creating atmosphere of Togetherness
The idea for the festival was born from passion for diversity, inclusion, and desire to foster a sense of belonging for people of different backgrounds.
Ojuolape and Vanessa Phekani have established Oulu Women in Diaspora networking group, which is dedicated to serving women's needs, supporting wellbeing and empowering women to reach their greatest potential.
The idea of the festival, which brings people together, strives for a safer space and atmosphere of inclusiveness, has emerged. The festival creates equal conditions for diverse cultures and cultural expressions to flourish and foster intercultural dialogue. Vanessa states that togetherness is the most important but also being able to bridge the cultural gaps.
"Now is the time to bring Oulu and Rotuaari back to life! We are looking forward to this festival, which offers everyone summer fun and the colors, flavors and sounds of Africa."
Ojuolape is from Nigeria, she has been living in Oulu for six years. She is a software engineer, fashion entrepreneur and the Creative Director of Heybeautycollections. She is passionate about bringing diverse cultures of the African continent closer to people: "I love to talk about where I am from because I know how culturally rich this place is."
Vanessa, the Executive Director of Africans in the Oulu community, is from Malawi. She has been living in Oulu for five years. She holds a bachelor's degree in public administration and sociology, and a master's degree in Education and Globalization from the University of Oulu.
Vanessa is the project Coordinator of ReGeneration 2030 youth movement, and also works as a Project officer for Oulu Reception Centre Association supporting integration of migrant and refugee women. She has a passion for raising awareness of cultural diversity.
Oulu is culturally diverse city
"We have still so much to do in terms of fostering cultural diversity and inclusion," says Vanessa. She emphasizes the importance of mainstreaming ethnically, linguistically diverse cultural events in Oulu's art and cultural life. There are a lot of events within various communities, but they are not visible within cultural services. We need to increase visibility of culturally diverse events in the municipal communication channels, to improve accessibility of communications and find ways to work with different communities. It is important to find gatekeepers in each of these communities and create networking forums to provide equal opportunities and enhance diversity and inclusion in the cultural field.
Vanessa states that the lack of representation has always been for her one of the biggest challenges since she moved to Oulu. "I think about my own children, how do they feel if there is nobody who looks like them in public places. If all your teachers are white it can be difficult to imagine that you would possibly be a teacher yourself in the future."
Whose European Capital of Culture?
"Oulu is the European Capital of Culture 2026. Our event already shows that diverse culture is accepted and promoted in Oulu," says Ojuolape.
She emphasizes that the African Cultural Festival and Africans in Oulu community are equally part of the European Capital of Culture. "Different communities have so much to offer to each other," says Vanessa. She points out, that the best space for encounters and the celebration of the European Capital of Culture is where different cultural experiences interact in a mutually beneficial manner.
Ojuolape adds that objectives of European Capital of Culture regarding promotion of cultural diversity should be more visible. This could support inclusion, cultural rights, and ensure equal participation of migrants, especially non – European migrants, in Oulu2026 cultural programme.
"It is all about bridging the cultural gap and Cultural Climate Change! That's why we want to encourage everyone to participate and create the Oulu2026 cultural program", Vanessa says.
The African cultural festival will take place on the 15th – 16th July at Rotuaari. There are more than 20 vendors with food and craft stalls and entertaining musical performances in the area. On Saturday evening, there will also be a fashion show at Rotuaari where African styles will be presented. The festival culminates on Sunday with a concert by the Group Calabasse.
The whole family event is open to everyone and free.
More information is provided by
Ojuolape Akinwunmi
hojuola@gmail.com
+358452247609
Vanessa Phekani
vanessaphekani@gmail.com
+358466677280
Equal Oulu2026 project fosters diversity and encourages everyone to participate in Oulu2026 implementation. Read more.