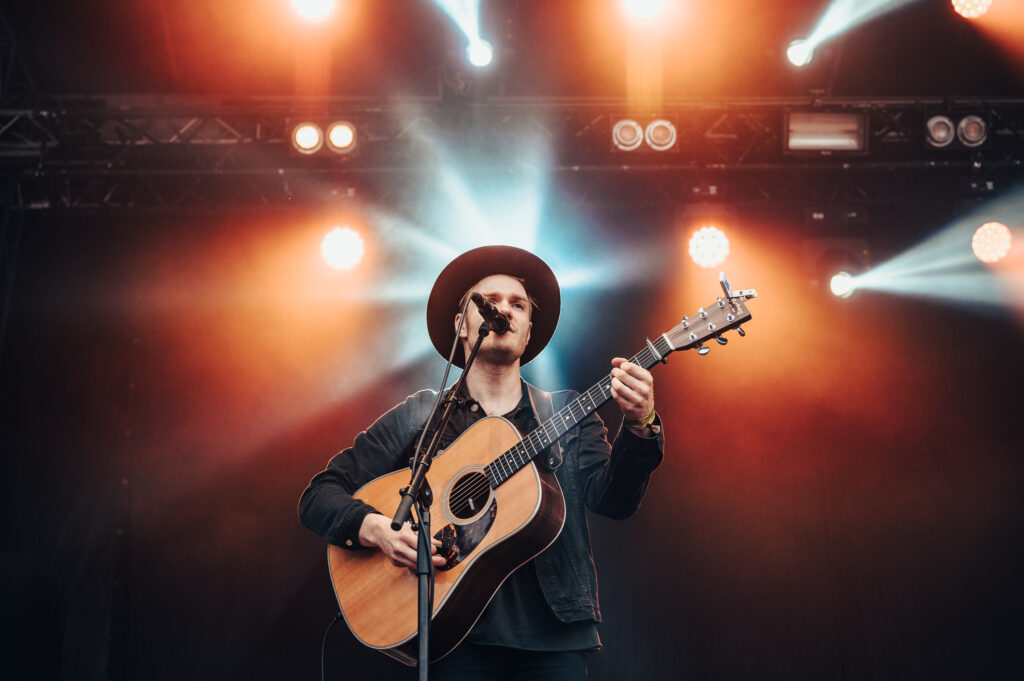 Our Cultural Personality of the week is Petri Kuusela, an Oulu-based guitarist, producer, songwriter and educator. Petri says he has been given the tools to form a positive and restorative relationship with listening, playing and creating music from a young age.
"Jamming with my mates in my early teens gave me an inkling of how playing and engaging with other musicians can be a deeper form of communication than speech."
However, a career in music was not a given for him. In fact, after finishing school, he impulsively applied to the Oulu Conservatory for the vocational study programme majoring in the guitar almost.
"I started my studies virtually as an autodidact, without any experience or knowledge about music as a professional field. My studies offered me quite the learning curve on how to interact and communicate in a creative industry."
Petri says that the same social sensitivity is central to all interaction in all fields of art and culture. While studying at the Conservatory, playing and practicing became his fulltime occupation, and during those years he also built meaningful relationships and musical partnerships.
"I have always been interested in how recordings are made and how a single instrument or the quality of its sound affects an entire piece and the emotion it conveys.
After graduating from the Conservatory in 2014, Petri met Tanja Torvikoski, with whom he started writing his own music and they soon established a group called Lanai. The group's debut album was released in November 2019. The process of the studio album served as an education for producing, arranging, composing and recording music.
"Making an album from start to finish mainly between the two of us also taught us a great deal about the fascinating myth that surrounds the process of making music." In addition to Lanai, I have had the privilege to collaborate with many great artists and musicians, including:Stepa, Rob Moose, Tommi Kalenius, Peltokurki, Lauri Peisterä, Dimi Salo, Edu Kettunen, Eereka and many more."
Today, Petri thrives on dividing his time between producing, playing the guitar and writing his own music. He feels that variety keeps him growing and the different aspects of his career feed his inspiration. A typical day in Petri's life includes studio sessions, gigs, meetings, and song writing in various configurations.
What are you up to these days? How do you spend your spare time?
Thank you for asking, I'm doing great! I spent last week in Northern Finland on holiday at our cottage, finished by a solo gig to a full house at Kahvila Wanha Hamina in Ii. I'm next headed to the Norwegian wilderness for a week of fishing. The summer has been a busy period of juggling between gigs and recording sessions, which keeps the mind awake. There will be a few more gigs and recording sessions and I'll be teaching ensemble playing at the Oulu Conservatory before the summer is over. I will dedicate most of the autumn for creative work.
I love the natural environment in Finland and I aim to make the most of my days off by moving in nature and fishing. To me, it's the best way of putting my everyday concerns into some perspective. I also play the guitar just for the joy of it and meet with friends when I'm not working. I enjoy exploring different musical phenomena in more depth, and when I'm working, there isn't enough time to do that.
What is it like to work in Northern Finland? How do you find the Oulu2026 region at this present time?
I see Oulu as a refreshing environment for creative artists as well as in terms of its cultural offering and demand. The impact of the coronavirus pandemic is still acutely felt but it is great to see that, at least for the past five years, Oulu has produced a number of unique internationally relevant artists who have the courage and ability to use their Finnishness and cultural heritage as a basis for their art. The city has (and will have even more) healthy competition within the live club scene and between festivals and, perhaps thanks to the Capital of Culture project, smaller events and the creative ideas of their organisers have received more encouragement and support.
I think Oulu is seeing a new wave in art, by which musicians and other artists are seeing the value of their Oulu identity in a new light historically and geographically and are willing to utilise it. As a region, Oulu is beyond compare, and I only hope that we succeed in maintaining and directing our resources even more effectively towards exporting Oulu-based art and international collaboration. On a national level, I wish to see the Oulu Region gain more significance as a region of artistic creation equal to all others in the eyes of the gatekeepers of, for example, state subsidies and grants.
What will the Oulu2026 region look and feel like in 2026? How do you think the Capital of Culture title will impact Northern Finland?
In 2026, artists and creators in Oulu will be enjoying a free, mutually inspiring and encouraging atmosphere in which both high-brow and popular culture can thrive side by side. This requires that the organising bodies and the local authorities are smart enough to invest in diversity, to take risks and to make space for grassroots cultural operators as well as large-scale cultural undertakings. Oulu is a hotbed of rising cultural entrepreneurship, which I believe will elevate the level of cultural production in the city and increase its diversity as we approach 2026.
I'm positive that with the Capital of Culture title, the value of Northern Finland as a rich and inspiring environment can be made even more visible internationally. The long-term effects of the Capital of Culture project may not be immediately obvious but we are heading in the right direction.
What does music mean to you personally?
For me, music is a way of self-expression and a journey in which the work and art of others serve as an infinite source of inspiration and a reminder of how we all are perfect just the way we are.
What could Oulu do to improve the position of creators and consumers of culture?
It could offer more funding, visibility and resources for projects, actors and event producers starting from the grassroots level up to supporting the internationalisation of local art. This could include providing a platform for workshops, master classes, and international collaborative projects in all areas of art to open up pathways for local artists for networking and sharing their expertise. The availability of well-equipped, affordable rehearsal and work spaces is still a bit scarce in Oulu, so directing more resources in this area would benefit both artists and producers.
Previous Cultural Personalities
Photo:Jutta Juvonen