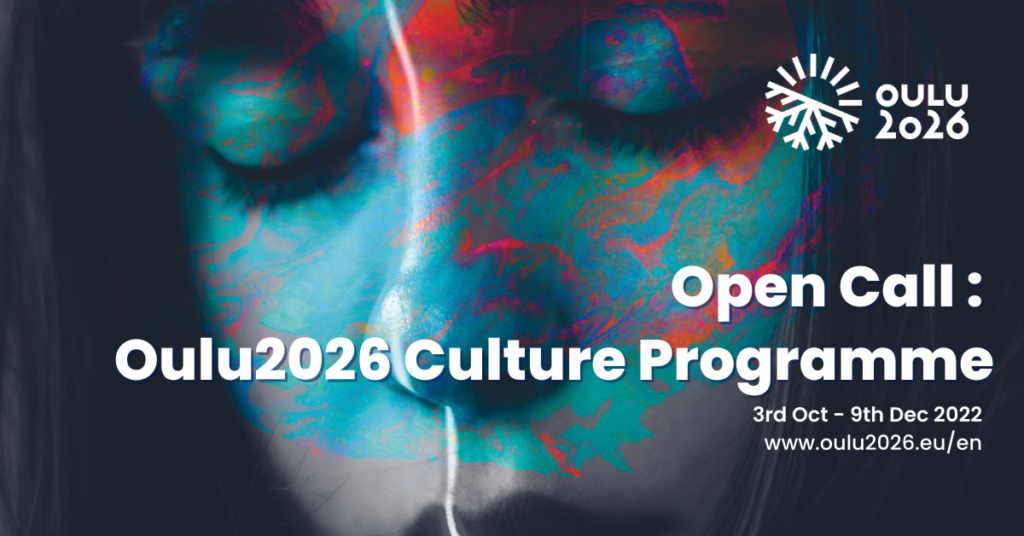 The Oulu2026 organisation is offering an unmissable opportunity in autumn 2022 for partners to become part of the capital of culture programme. The autumn 2022 Open Call is specifically aimed at large-scale projects that take several years to prepare or carry out. The call for applications for individual, communal projects will be announced closer to 2026.
Join the upcoming webinar on 6th September at 2pm, where our team will introduce the diverse culture programme and the main themes, how to participate to the Open Call and what are key steps towards October 3rd, the official launch of the Open Call. We will also share general information about Oulu and our northern region. The webinar will be held in English and during the one hour session, you will learn e.g. what we mean by large-scale productions, what are our three main programme themes, how the funding and overall application process work.
The Open Call will be officially launched on 3rd October, and you have time to submit your application until 9th December. The official application criteria will be available on September 1st on our website.
The webinar will be also held in Finnish at 13:00 local Helsinki time. The recorded webinars will be released on our website and our Oulu2026 Youtube channel. Before joining the the webinar, you can take a look at Frequently Asked Questions. 
Register to 6th Sep webinar in English 2pm (EEST)
Register to 6th Sep webinar in Finnish 1:00 pm (local Finnish time) 
Read more:
The Finnish city of Oulu, European Capital of Culture 2026, announces an Open Call for cultural programme partners
13th June first info-webinar recording (youtube)
Questions?
Email us at opencall@oulu2026.eu