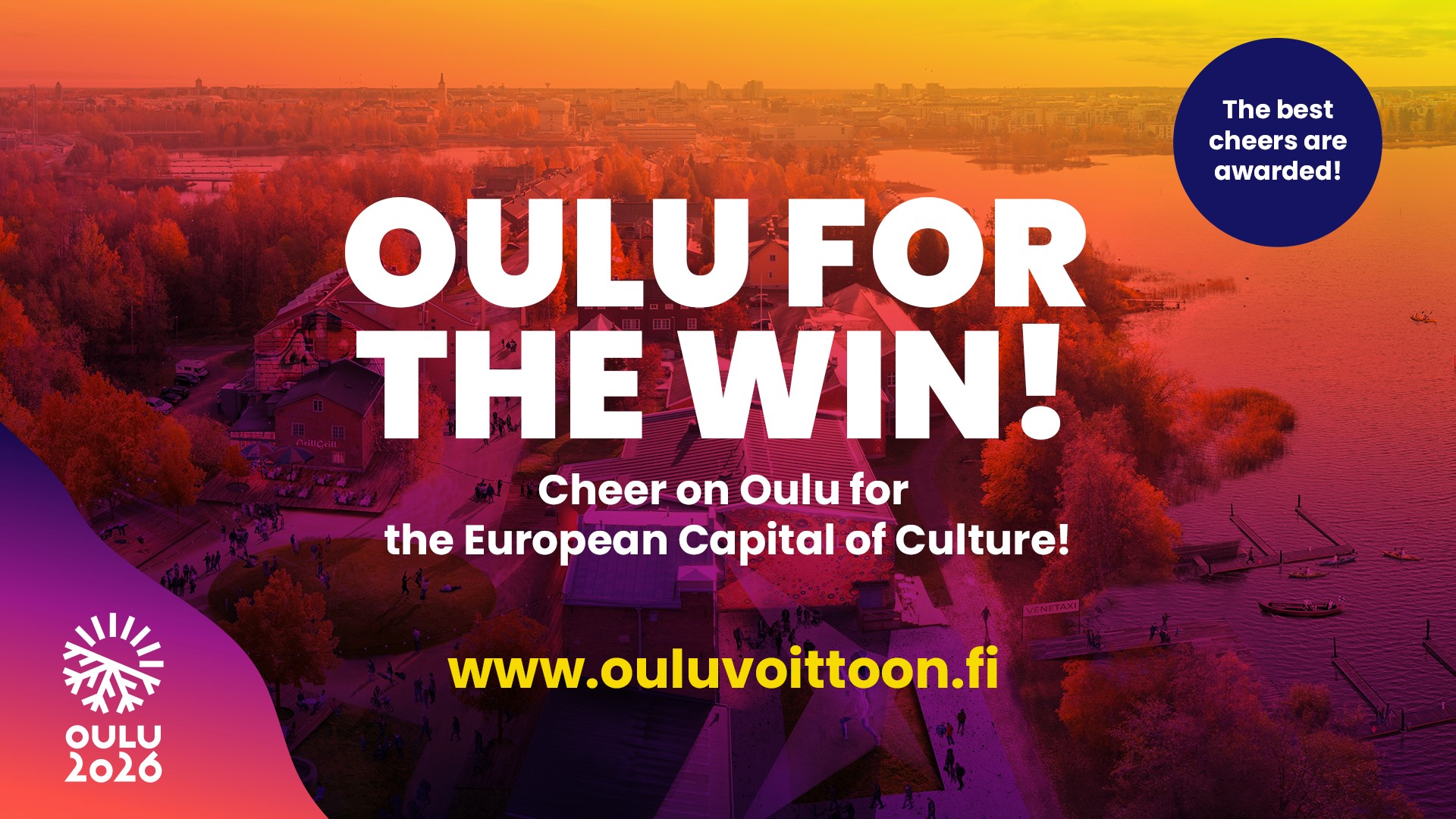 Cheer on Oulu for the European Capital of Culture!
Sing, laugh, crochet or rock! Or encourage Oulu to victory with a trick, poem or dance and win great prizes.
How would you cheer on Oulu and its partner municipalities to win the Capital of Culture competition? Make a cheerful video, take a picture or express your cheer in another way and win great prizes!
T
his is how you participate in the cheering
Come up with a wild cheer for Oulu alone or with a good group
Send the cheer to us by May 31 with one of the following ways:
Include your name, phone number and email address to your message via WhatsApp or email.
you participate in the competition with a team, select one contact person who will represent the entire team and put the video forward.
Win a hotel night and other top prizes
Awards for the places 1–3
A night for two at Original Sokos Hotel Arina's reformed rooms which tell stories of Oulu.
Other awards
Oulu Symphony tickets
Oulu Theatre tickets
Oulu Museum of Art tickets
Science Centre Tietomaa tickets
Exit espace game in Oulu
Winners will be notified in person by June 7, 2021. If the winner is a team, the prize will be handed over to the team contact person.
Draws in Oulu2026 social media
Follow @Oulu2026official social media channels and take part in the weekly competitions. You can win amazing Oulu2026 products. 
The rights to the material related to the competition and the related intellectual property rights belong to the organiser of the competition. The participant hands over the right to use the produced material to the organiser and gives permission to publish the material on the organiser's communication or Facebook, Twitter and Instagram channels and other social media platforms.
Examples of Oulu for the Win cheers: