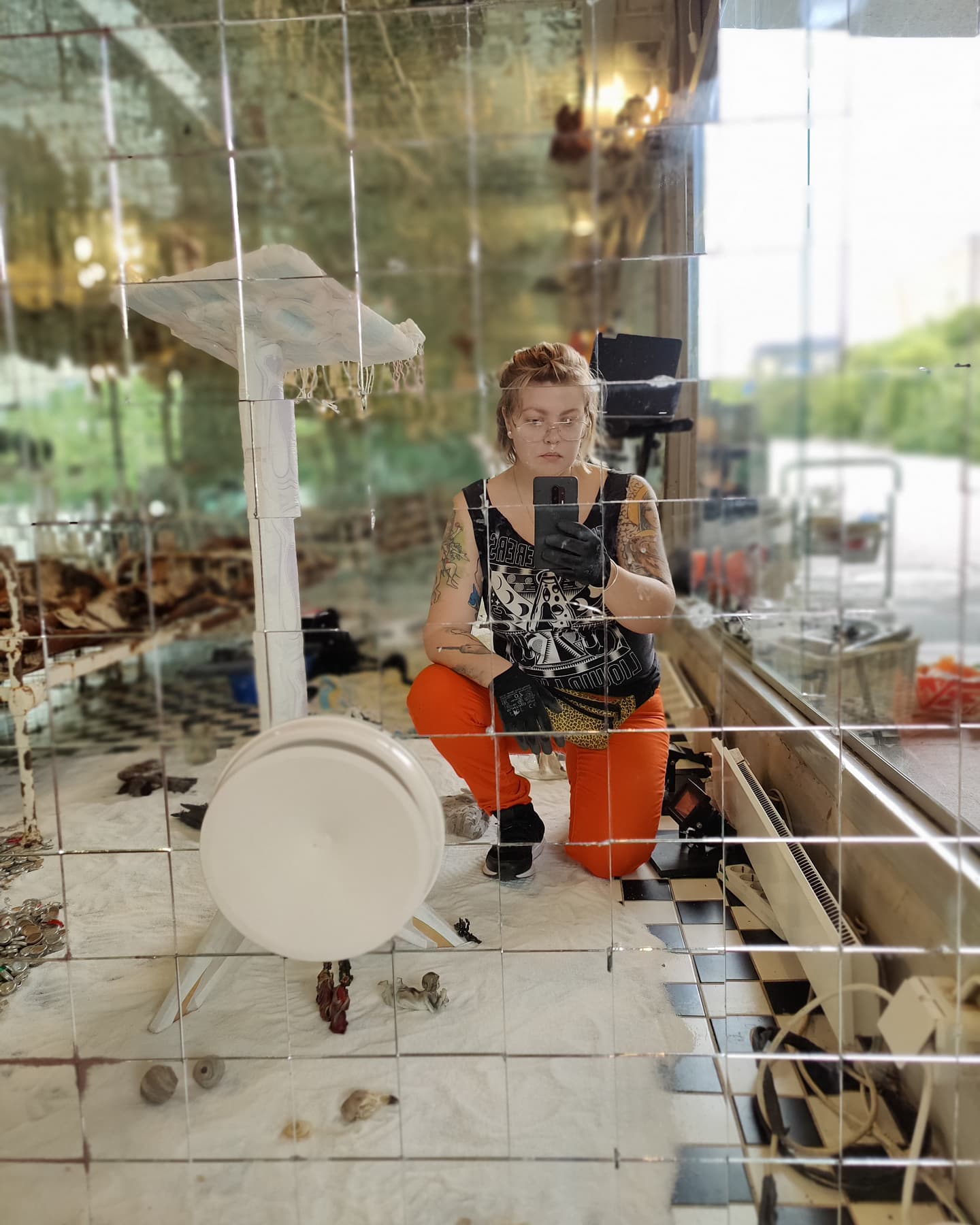 The Cultural Personality of the Week is Tessa Astre, a multidisciplinary artist and art teacher. Tessa teaches comics and animation at the Liminka School of Arts and also serves as a planner and group leader in the Theatre Programme of the same school.
Tessa Astre has served for two years as a member of the board for Oulu Artists Association and for six years as the vice-chair and member of the board for Oulu Comics Association. She is a founder of the Performanssilupi club, has performed as her burlesque alter ego Regiina Dieder, particularly at Oulu Pride Vaimola events, and promoted the Open Stage clubs in her hometown Liminka.
In 2021, two comic books edited by Tessa in cooperation with students were published: one based on Juha Hurme's play and the other in cooperation with comic artists from the Komi Republic. Together with Aapo Kukko and Niko-Petteri Niva, Tessa has also co-authored the graphic novel "Huojuva Torni", which is set in Oulu . Last summer, she created installations in two spaces: a room for the Ars Kärsämäki summer exhibition and the August exhibition of the RÄNNI gallery.
Tessa operates within and across several artistic disciplines and cultural genres. "Artistically I'm most interested in combining performance art, drawing and narratives. To me, the different media are tools that I use whichever way the purpose and content of the work demands. In social and political terms, I'm interested in the accessibility and inclusivity of culture and art. Collaboration between different media is an asset," says Tessa.
Oulu, together with 32 municipalities in Northern Finland, is the European Capital of Culture in 2026! How do you feel about that?
I feel so lucky to be a cultural creator in Oulu right now! I believe that being in the international limelight creates job opportunities for artists and improves the accessibility of the arts. Art education could be made available to all age groups through various projects to enrich our day-to-day lives. Cultural discourse on the interface of science and art will be made visible and collectively accessible. The significance and meaning of art and cultural practitioners should continue to be acknowledged and taken into account in planning after the Capital of Culture year ends. In Liminka, the impact of art and culture is increasingly understood, and the Capital of Culture title serves as confirmation that we've chosen the right path!
What does our leading theme, Cultural Climate Change, mean to you?
My personal identity is deeply rooted in Northern Finland and this influences my artistic work. Nuan 65 was a life-changing project for me: it meant a recognition of the uniqueness of Northern practitionership and finding my own circles in different media here. The Cultural Climate Change forces you to think what the optimum climate on these latitudes is. What type of climate can the existing infrastructure and system offer creators and audiences? What can we do?
The climate belongs to all of us, regardless of the system, which means that we also share the responsibility for it. The authorities must take responsibility for the actions that harm the climate while making it feasible for everyone to protect the climate.
How do you find Oulu at this present time?
Oulu is a beautiful city full of secret places and imaginative routes. For some reason, the local authorities seem hell-bent on doing away with grassroots activists and old buildings. I hope that the Capital of Culture title encourages decision-makers and gatekeepers to see the seemingly unprofitable underground scene and the multiple layers of history and culture as an opportunity rather than a threat.
How do you spend your spare time?
I watch films with my kids and talk to my chickens, tend to my garden, and write stories.
When possible, I go to gigs, especially in Rauhala, Tuba, and Voimala. Tarkkis 14 is a treasure trove and there are several places just outside Oulu where you can get rescue food. You can always meet nice people at Tukikohta and the Northern Ostrobothnia Museum in Ainola park is an excellent place to visit. In the summer, the best part of Oulu is the waterfront, and the parks with their plant life and graffiti walls are a must in all seasons. The Escurial Zoo and Flower Park in Liminka is a unique destination. Rantakylä is the best place for swimming. We have the whole world in miniature here, in and around Oulu. I've no reason to leave!
What will Oulu look and feel like in 2026? How do you think the Capital of Culture title will impact Northern Finland?
In 2026, the Liminka School of Art will start offering basic and intermediate Open University courses in theatre and comic art. The capacity of the school has expanded and it will be offering tuition round the year. The resources of private operators in other municipalities have also been increased to an all-time high and long-term employment for professional art and culture practitioners is guaranteed. Every public and private project will allocate a fixed percentage to art acquisitions, and the commissions of art for public spaces are lot more imaginative than mere lifelike statues. Performance art will have established venues with sufficient funding and grassroots actors are automatically involved in cultural projects. Art and creators are an integral part of Oulu's diverse urban image.
Photo: Tessa Astre