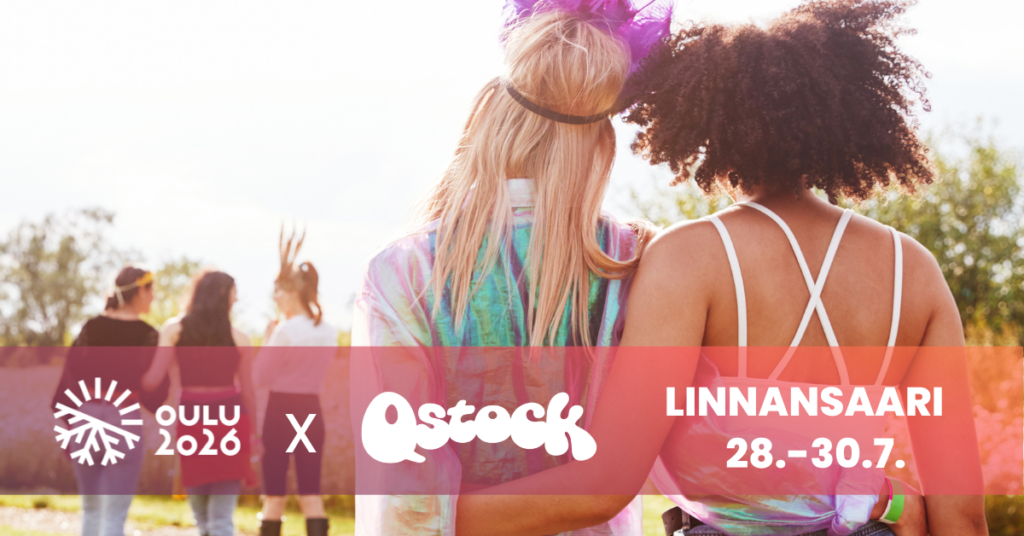 Oulu was recently elected the European Capital of Culture, which will give us the opportunity to enjoy its growing and enhanced cultural offerings. The European Capital of Culture programme can also be seen in the production of the largest music festival in Northern Finland, as Oulu2026 and Qstock will start a partnership that will expand even beyond the festival area and reach all the way to Linnansaari.
The collaboration between Qstock and Oulu2026 allows us to enjoy an atmospheric Oulu2026 park, where visitors can taste local Arctic Food Lab food, and enjoy free cultural programme during the Qstock weekend in Oulu. This partnership can also be seen in the festival area: the traditional Oulu stage will be called Oulu2026 stage.
Relaxation in the Oulu2026 park 
This July, the Qstock festivities can start before the festival gates open, when the atmospheric Oulu2026 park opens its doors to the public in Linnansaari on Thursday 28 July. The park is a perfect spot for visitors to sit down, take a break and enjoy the local delicacies made of Arctic Food Lab products.. The trademark, Arctic Food Lab, brings together those operating in gastronomy and food culture in the Oulu region, and celebrates Northern cuisine and gastronomy.
"The Oulu2026 park is open to all without an entrance fee, and no festival ticket or any other entrance ticket is required. The park is a lounge-type area where people can come and take a break from the bustle of the festival at any time. The park opening ceremony will be held on Thursday 28th at 18:00 before the festival weekend. In addition to varied food and beverage offerings, the Linnansaari area will also feature participatory art and live music," says producer Heikki Myllylahti.
Apart from the lounge area, the Oulu2026 will be visible inside the Qstock festival area, as the traditional Oulu stage will be transformed into an Oulu2026 stage. According to Myllylahti, the idea behind the stage programme is to highlight local talents, but the repertoire can also be taken in a more international direction in the future. This year's performers on the Oulu2026 stage include names such as Hegemonia, Survive the Silence, The Southgates, Sky Fighters, Fatal Effect, Good Luck Million, Kas Kan, Moskah and Aamun Kuningatar.
"The European Capital of Culture initiative is especially well known for the various events offered, but it is fantastic that this partnership also allows the wider public to sample the offerings of the Arctic Food Lab, for example. We want to offer both locals and international visitors experiences of Northern Finland that cannot be experienced anywhere else," Myllylahti says.
Author: Iina Tauriainen
The article was originally published on Qstock's website in Finnish on 19 May. Music, participatory art and delicious food – atmospheric Oulu2026 park to open in Linnansaari during the Qstock week