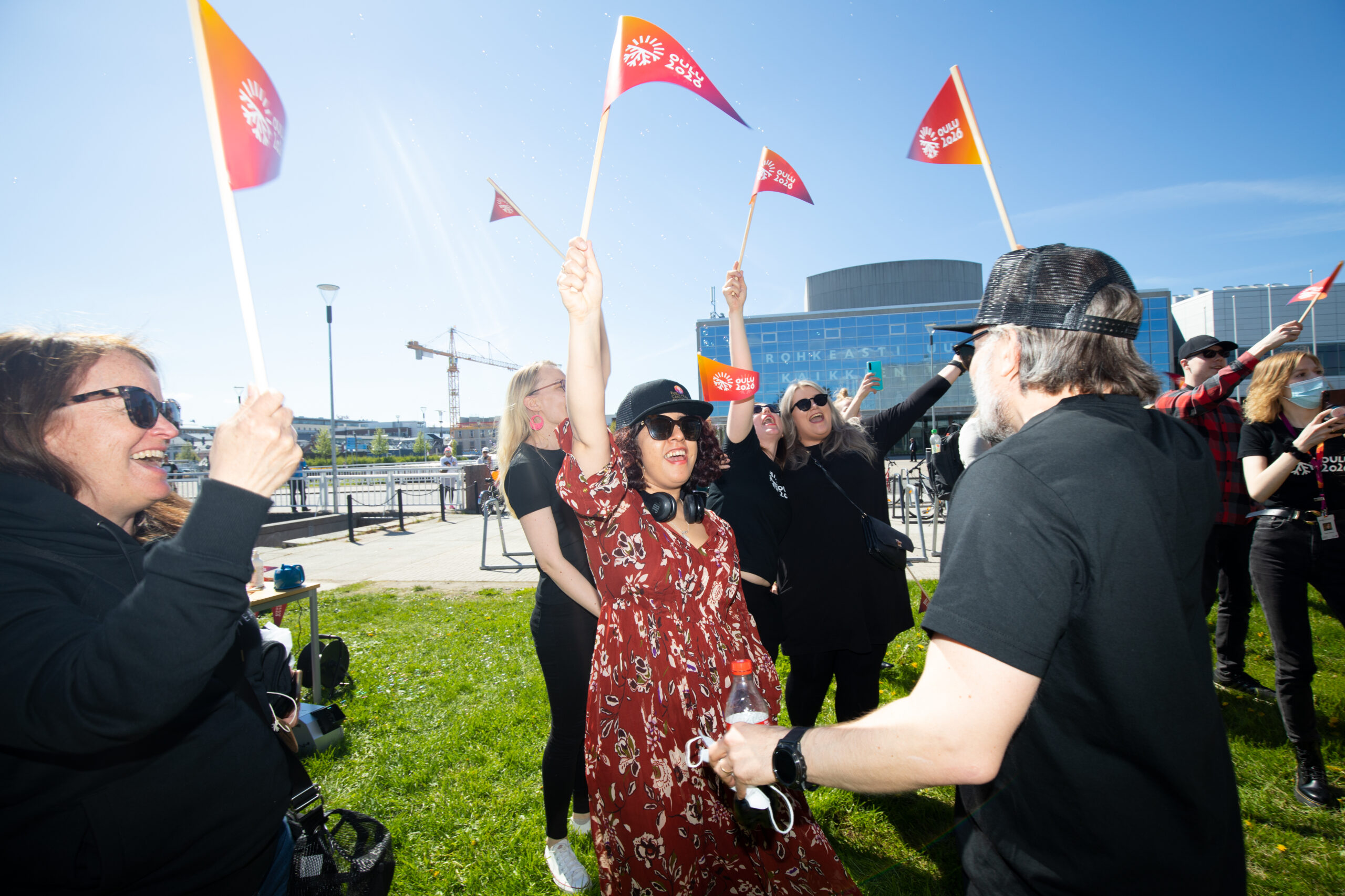 Work for us?
The goal of the Oulu Cultural Foundation is to create and bring Region together with 35 northern municipalities and cities. Our message to the world is: Cultural Climate Change now!
The tasks at the Oulu Cultural Foundation are varied and diverse. We are looking for people with skills from event production through administration, communication and marketing to project coordination. The Foundation does not produce all of the cultural programme for 2026 by itself. This is done by hundreds of projects selected through our Open Calls.
The preparations are in full swing for 2026, when Oulu becomes the European Capital of Culture, and our northern region will be filled with art, culture and events of different types and sizes. To make our landmark year a success, we are looking for talented people to work in programme planning, communication and coordination.

Open positions
On this page, we advertise all the open roles at Oulu Cultural Foundation. Applications should be sent by e-mail to rekry@oulu2026.eu Please indicate the role you are applying for in the subject field of your email, e.g. "Producer and date of application".
We do not have any open positions at the moment.

Internships
Oulu Cultural Foundation is looking forward to applications from internship candidates. Internships are a great way for students to contribute to the unique European Capital of Culture.
We want to make sure that all our interns have a positive experience with us. Each intern will have a nominated supervisor supporting the student during the internship. The Foundation offers several diverse practical tasks that will be useful for any student when entering employment. One of the goals of the Oulu2026 cultural programme is to create jobs in the creative industries – we value and want to help retain talent in the Oulu region!
As a rule, we will accept applications from higher-education students whose field of study is a good fit with our operations. The internships take place locally. Internships are offered for 4–6 months. Typical internships at the Oulu Cultural Foundation are related to communications, marketing, and event production. Applications for internships should be sent by e-mail to rekry@oulu2026.eu. Please indicate in the subject field the role you are applying for and the date, e.g., "Producer 1 November 2022".
Volunteering
We are currently preparing the Volunteering Programme for Oulu2026. In the upcoming years, you may take part in the implementation of the European Capital of Culture through various voluntary tasks. Voluntary activities are a significant resource for the Cultural Programme and thereby achieving the Cultural Climate Change. As a volunteer, you get to peek behind the scenes!
We inform on this page and in our Oulu2026 newsletter about open volunteer positions. If you wish, you can also register in advance as a Cultural Ambassador (i.e. volunteer) with the same form as subscribing to our newsletter. At the moment we don't have open volunteer positions, but if you have any suggestions in your mind, please do not hesitate to contact our Head of Community Heli Metsäpelto (heli.metsapelto(a)oulu2026.eu).
Closer to 2026, we have numerous interesting tasks opening up related to e.g. for event production, communication, information, and guidance. We also organise training and own programme for volunteers. Welcome aboard!

Send us an open application!
We also accept open applications. Email us the following details:
a brief introduction of yourself
what type of roles you are interested in
what you could offer the Oulu Cultural Foundation
when you are available
Attach your CV and open application (word or pdf)
Email to rekry@oulu2026.eu and enter OPEN APPLICATION in the subject line.