About Oulu 
​The City of Oulu is the capital of northern Finland and it's located halfway of Finland by the Bay of Bothnia. The Oulu Region has about 250,000 inhabitants and it is the fastest growing region in Finland. The City of Oulu itself has over 200,000 inhabitants so it's the 5th largest city in Finland.
You can access Oulu under one hour by plane from the Capital City of Helsinki, and also by train in 6hrs. Also busses and highways are a good option for travelling.
Oulu is a perfect mix of northern nature, urban city culture and original local flavour. The residents of Oulu have always been known for choosing their own path and seeing opportunities where others see nothing: we've created a hub of high technology with mobile networks and 6G connections and an air guitar event blasting the message of world peace.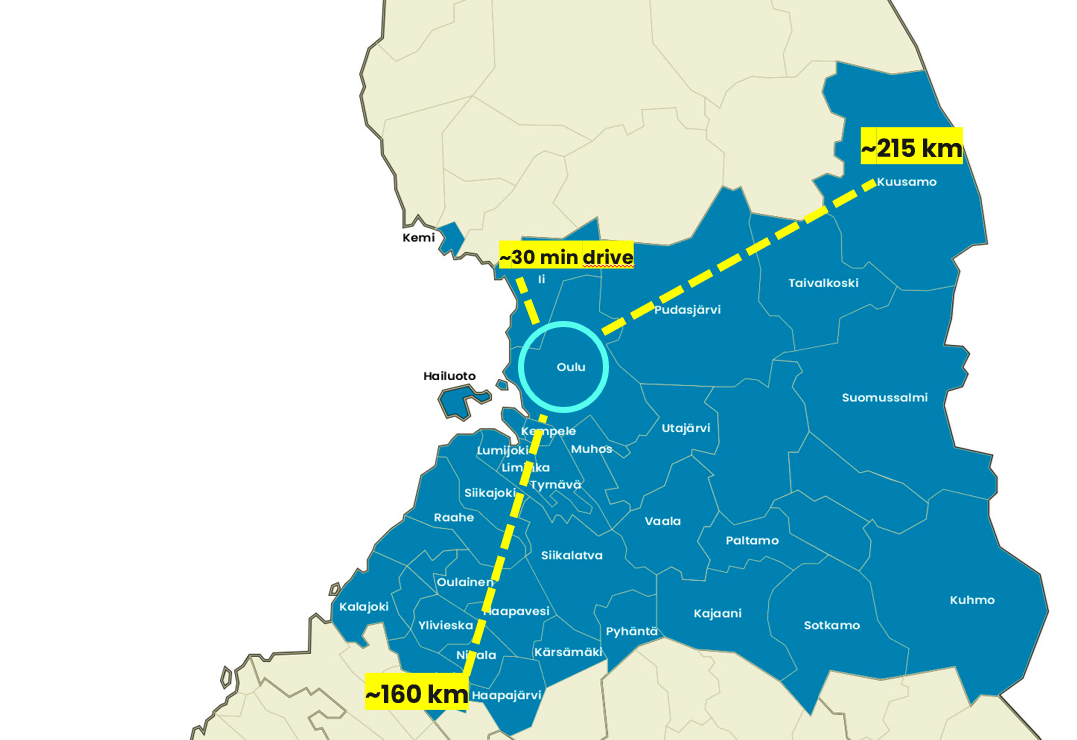 600 km
Distance from Helsinki 
250k
People living in Oulu region
33k
Visitors abroad (2021-2022)
Fastest growing city on the Arctic
Oulu is the fastest growing city of Arctic Europe and 3rd in Europe attracting Venture Capitals. Signs of growth can be seen all over the place.
The strong expertise in ICT has created a unique base for innovations and new business in Oulu. About 60% of the world's mobile phone traffic utilizes network technologies that have been developed in Oulu. One of Oulu's developing fields of technology are the Internet of Things (IoT) and Health Tech.  
Population of Oulu is expected to continue grow around 20% during the next decades. Also the consumer potential is growing, as the amount of wage income tax has grown the most (+3.5%) of all Finnish cities.
Oulu is the most popular student city in northern Finland. It is also the centre and innovative forerunner of new teaching philosophies. The University of Oulu has 15,000 students in eight faculties. The Oulu University of Applied Sciences offers for its 9,000 students bachelor and master degree programme studies, professional specialisation studies, pedagogic studies at the School of Vocational Teacher Education, Open University studies as well as supplementary training.
(source: InvestinOulu / City of Oulu)
Check out these sites to discover more!
What's ticking in Oulu? (www.investinoulu.com)
How to travel to Oulu?
Oulu can be reached quickly from every direction and with several means of transportation. There is an international airport in Oulu. All highways in the region lead to Oulu, and the city's railway station is also one of the busiest in Finland.
By train (Train company VR)
Helsinki-Oulu 5 h 30 min – 6 h 30 min
By flight (Finnair)
Helsinki-Oulu 50 min
By bus ( Onnibus, Matkahuolto, Pohjolan liikenne)
Helsinki-Oulu ~ 8h – 9h