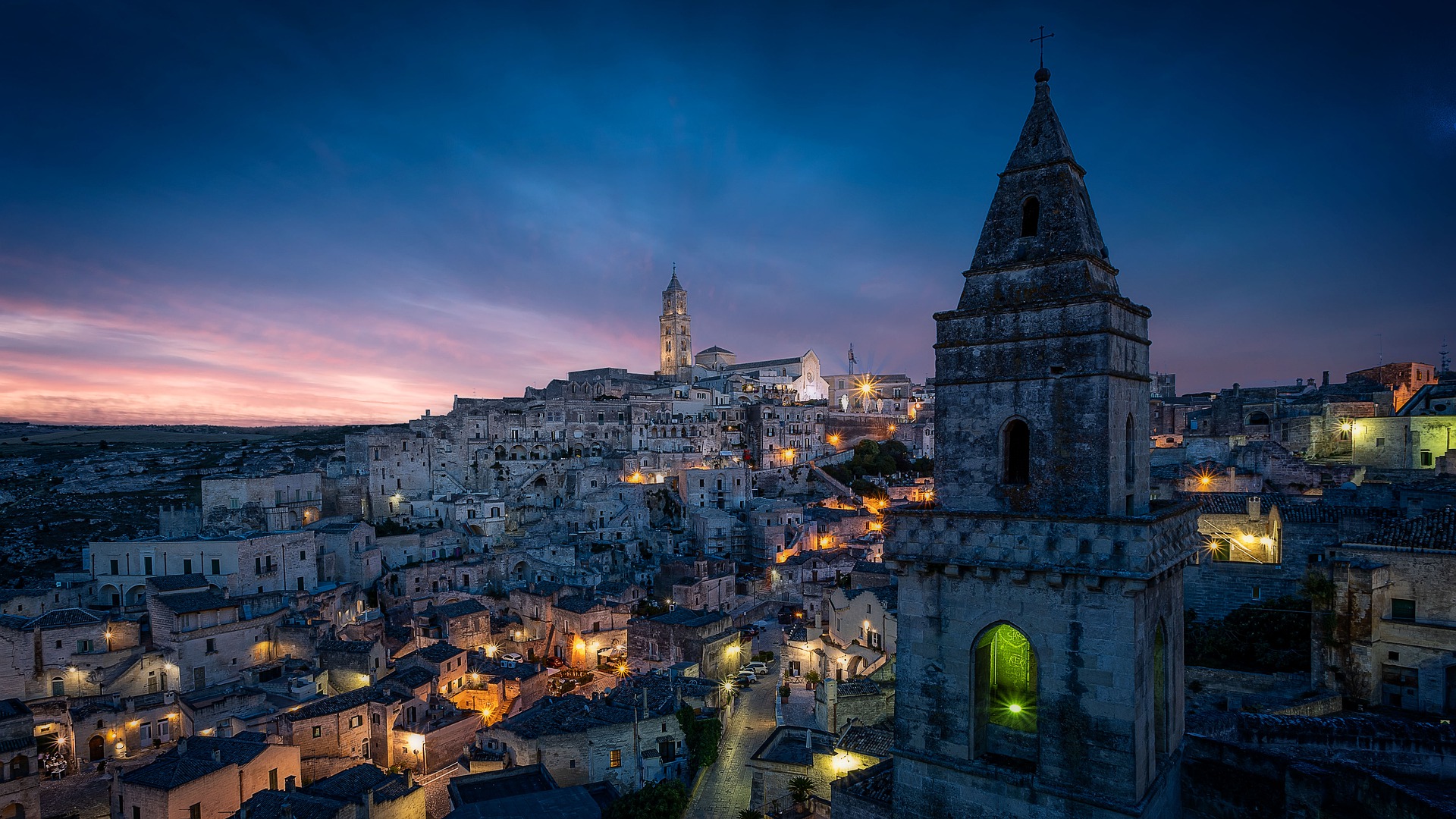 Matera was one of the two European Capitals of Culture (ECoC) in 2019 together with the Bulgarian city of Plovdiv. The city is located in the Basilicata region in Southern Italy and has a population of around 60 000. Matera is also the capital of the Province of Matera and is also known as the "Cittá Sotteranea" (The Underground City). Nowadays the city is famous for its historical center known as "I Sassi", which has ancient cave dwellings that have been inhabited since the Palaeolithic period. Today I Sassi is an UNESCO World Heritage Site. Agriculture has been the main economic activity in Matera for hundreds of years, but nowadays its economic sector is more diversified, affected notably by the rise of the tourism, handcraft and research fields, which are replacing the local "furniture" district that emerged towards the end of the 20th century.
As an ancient city Matera has a number of ancient and rupestrian churches and archaeological sites. There are also several museums and theaters in the historical center of the city, including the National Archaeological Museum "Domenico Ridola" and the Museum of Medieval and Modern Art. Matera has gained reputation also through several movies shot in the city in recent years. Since 2014 Matera has been the venue for around 30 movies and short films, including Ben-Hur (2016), Wonder Woman (2017) and No Time to Die (2021), the latest, yet to premiere, James Bond movie.
Matera's ECoC programme provided a diverse range of cultural, artistically high-quality activities. The programme featured a large number of both national and international artists and altogether over 1300 events, 65% of which were free, as the rest were accessible with the Matera 2019 Passport. In total the different events attracted almost half a million visitors. A clear majority of respondents to the ECoC Foundation's survey was satisfied with the content, quality and originality of the cultural programme (64%) and with the diversity of the cultural offer (66%). The diverse cultural offer and the direct engagement of the citizens in the co-creation process of the event increased the number of people accessing cultural activities. Furthermore, many people felt that Matera became more culturally vibrant (78%) and more open to cultural differences and diversity in general (82%).
The number of tourists in the Basilicata region increased from around 520 000 to nearly 950 000 between 2012-2019, more than in the rest of Italy. According to a survey conducted with tourists in 2019 almost 70% of the respondents visited Matera at least partially because of its ECoC status. The tourist numbers also boosted Matera's market revenue. AirBnB listings between 2017-2019 show a 25% increase on the average daily rate for one-night stay accommodation.
References
Ex-post evaluation of the 2019 European Capitals of Culture – Final report