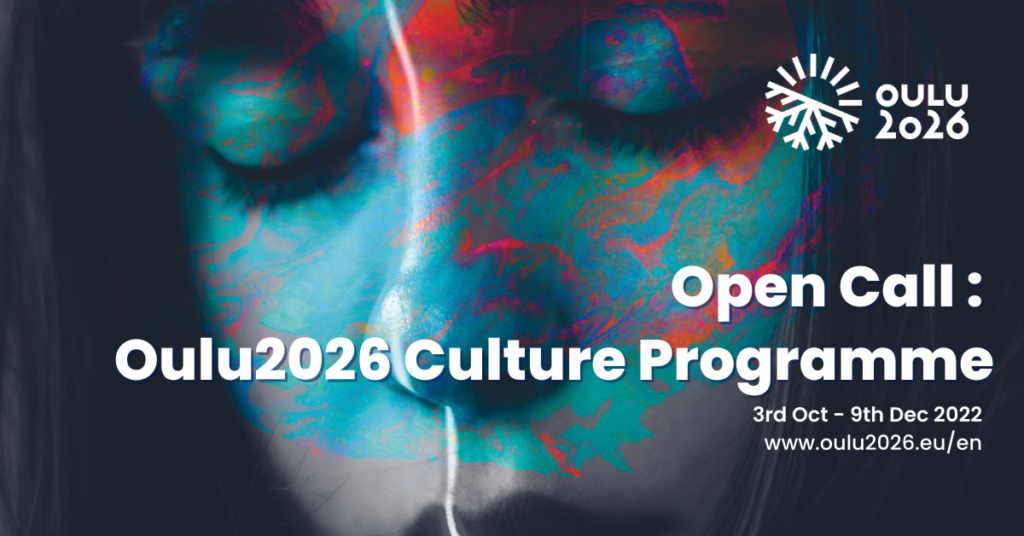 Finland will take the cultural centre stage in Europe in 2026 as the City of Oulu, together with 32 municipalities in Northern Finland, holds the title of the European Capital of Culture 2026. The year will be full of inspiring, diverse and unique cultural offerings delivered by thousands of contributors from all over the world.
The Open Call for international partners of the Oulu 2026 cultural programme will be launched in October 2022. The preliminary announcement of the Open Call is available on the Oulu2026 website www.oulu2026.eu/en/opencall  The information event in English for the first Open Call is held via Zoom on 13th of June 2022 at 1 p.m. (Helsinki, UTC+3).
The 2026 cultural programme is international
The goal of Oulu2026 is to achieve a permanent cultural climate change and to use culture to fuel positive development in Northern Finland. The Oulu2026 programme is built around three themes: Wild City, Cool Contrasts and Brave Hinterland. The Open Call launched on 3 October 2022 is aimed at projects related to these themes.
Samu Forsblom, Oulu2026 Programme Director, recommends that all applicants familiarise themselves with the Bid Book and the themes.
"We are looking for unique projects with far-reaching impacts. Combining art and technology and artistic experiences created through this process are of particular interest to us. We hope that the projects are delivered in collaboration with contributors based in the Oulu2026 region," says Samu Forsblom.
The operative focus of the projects is on the capital of culture year 2026 but they may be launched earlier.
The Open Call for applications in October is open to Finnish and international actors. The project plans are expected to be suitable for independent delivery.
The application forms are available from 3 October 2022 onwards, but the application criteria have already been published on the website www.oulu2026.eu/en/opencall. More detailed information and instructions for the applicants will be published on the same website in the autumn.
The Open Call closes on 9 December 2022. The information event for the first Open Call (in English) is held via Zoom on 13th of June 2022 at 1 p.m. (Helsinki, UTC+3). REGISTER HERE
Information about other meetings and webinars are available on the website www.oulu2026.eu/en/opencall.
Be part of the Cultural Climate Change!
For more information, please contact
Samu Forsblom
Programme Director
Samu.forsblom@oulu2026.eu
+358 44 703 7558
Photos and social media banners available for download here