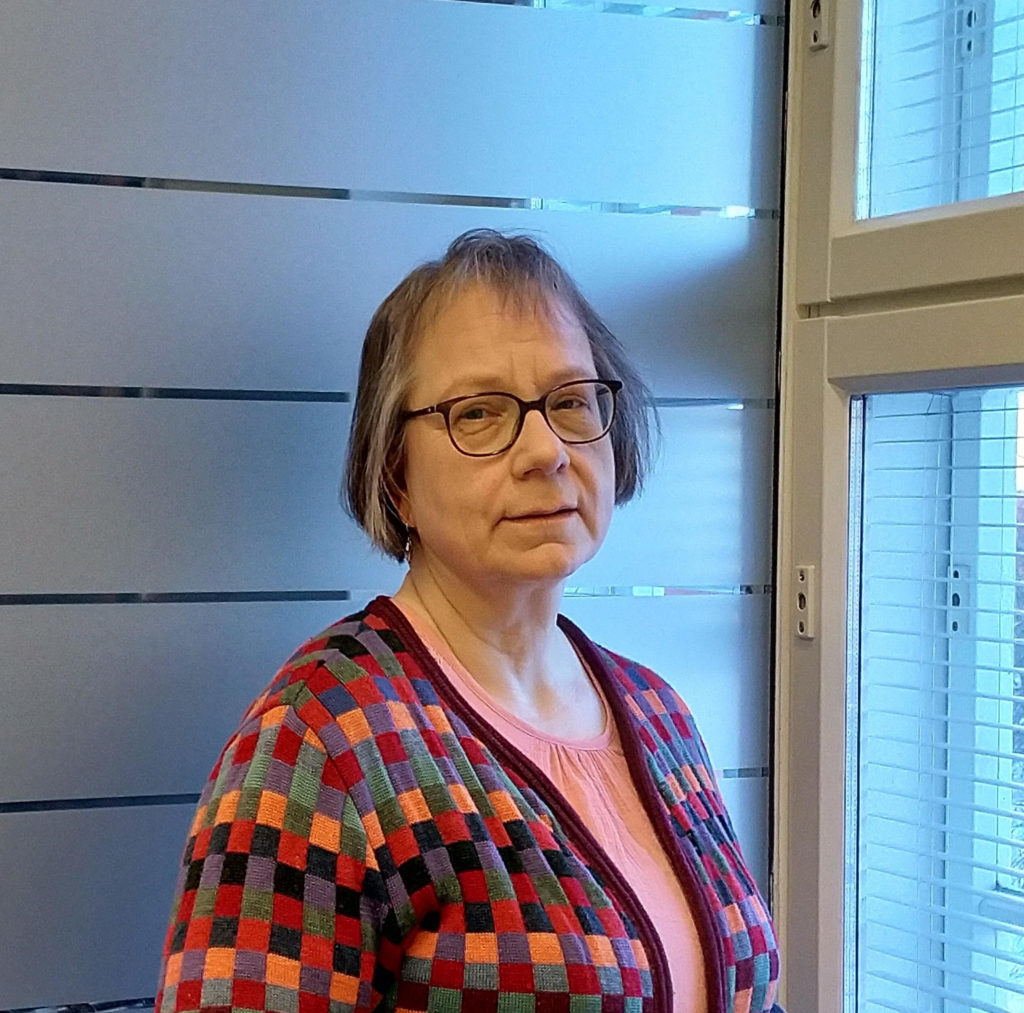 Outi Dekker works at the Oulu Museum of Art as a museum assistant, primarily at the collection unit. She takes care of things related to artworks that are located in units of the city of Oulu, such as in schools, kindergartens and offices, and that is managed by the Oulu Museum of Art. She also does audience work, such as giving guided tours and organizing the activity of Luuppi's senior club with a couple of colleagues. She has served the city of Oulu since 1990. Retirement days are looming a couple of years away.
How does your life look like and feel now, during these exceptional times?
"Life feels peaceful. It's as if it's in an expectant limbo. It's a bit annoying that you can't go to the gym or winter swimming the same way as before. Thankfully people closest to me both at home and at work have remained healthy, that's the most important thing. The Oulu Museum of Art is closed and silent. However, behind the scenes people are working all the time, some from home and others at the museum. The current situation has enabled us to focus on tasks for which it's usually difficult to find time for. The Teams application that the city of Oulu has started to use from the beginning of the year has helped a lot in our work."
How does Oulu look like through your eyes right now?
"Right now, a beautiful, snowy view into the Ainola park opens in front of me from the window of my workplace. The sky has become clear after snowfall and the temperature starts to drop. Soon the blue dusk of the afternoon will set. It's wonderful that we can still experience a proper winter and the change of the seasons at Oulu's latitude!"
Oulu is bidding for the title of European Capital of Culture (ECoC). What makes our region the best candidate for the title?
"From the edge of Europe, we can show others and ourselves that we live and behave actively here. Here creative personalities and a shared will create great and unique experiences in the fields of art and culture. The ECoC does not stop at Oulu and the year 2026 but conquers the entire Northern Finland and is an investment into the future of the region."
Send your regards to the Oulu of 2026, when we are the European Capital of Culture
"Hurrah culture capital Oulu, you have deserved your title! From here on towards new cultural adventures, entire Northern Finland!"