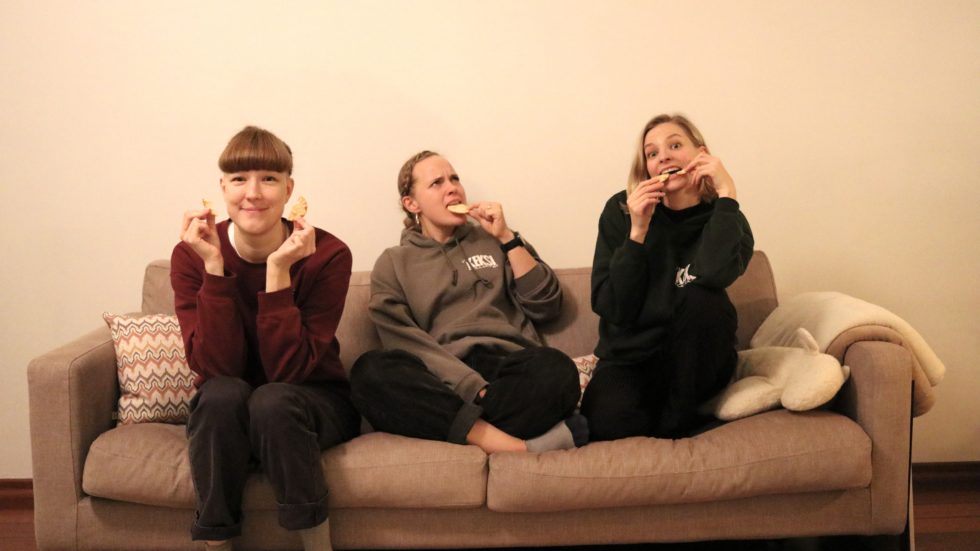 KEKSI Kollektiivi is a street dance collective from Oulu formed by six women in 2015. Their goal is to maintain and develop the street dance culture of Northern Finland. Three of the members currently live in Oulu. The collective actively organizes events and workshops related to street dance and it is also possible to book them to perform and teach street dance in the Oulu region. You can find KEKSI Kollektiivi on both Facebook and Instagram.
Anu Rytivaara, Marja Isotalo and Jenni Ylitalo of KEKSI Kollektiivi, how does your life look like and feel now, during these exceptional times?
The spring and summer were exceptionally peaceful as the normal events, trips and plans were cancelled. Recharging one's batteries was very good for personal well-being and there was the possibility to think about the future. Luckily, we were able to practice also outside during the summer and there were many online lessons and workshops on offer. Now during the autumn, we have organized open-for-all training sessions once per week and we have also had the opportunity to organize a few awesome workshops and a performance tour at youth centers as well. We are currently keeping up to date with the development of the epidemic and hope that we can keep on working as long as possible, following safety regulations.
How does Oulu look like through your eyes right now?
Community and being together are important aspects of street dance culture and obviously the current situation has restricted these a lot. We are proud of the culture producers of Oulu who have adapted to the situation in an awesome way, for example by organizing live stream concerts. However, we miss the dancefloor of 45 Special at 3AM at night when sweat is flying, the bass is grinding and people meet each other without safety distances and fear.
From our point of view we live in a waiting situation. We have received a grant for organizing our activities and events, and now we are trying to think how to realize our plans in different scenarios. We hope the situation normalizes soon and that we can again meet each other in cultural contexts.
Oulu is bidding for the title of European Capital of Culture (ECoC). What makes our region the best candidate for the title?
Oulu has an honest and authentic attitude for doing things, as well as plenty of potential and capacity. This city has an incredible amount of talent and good workers, who create really cool things with modest resources and a good motivation. If we could add to this the resources that would follow with the ECoC title, this would create a great opportunity to make Oulu an attractive city. We also hope that the ECoC title would result in these opportunities being more attainable for everyone. Culture creates wellbeing, that's why it's important!
Send your regards to the Oulu of 2026, when we are the European Capital of Culture
Oulu!! Now it's better to go over the top rather than do too little!!