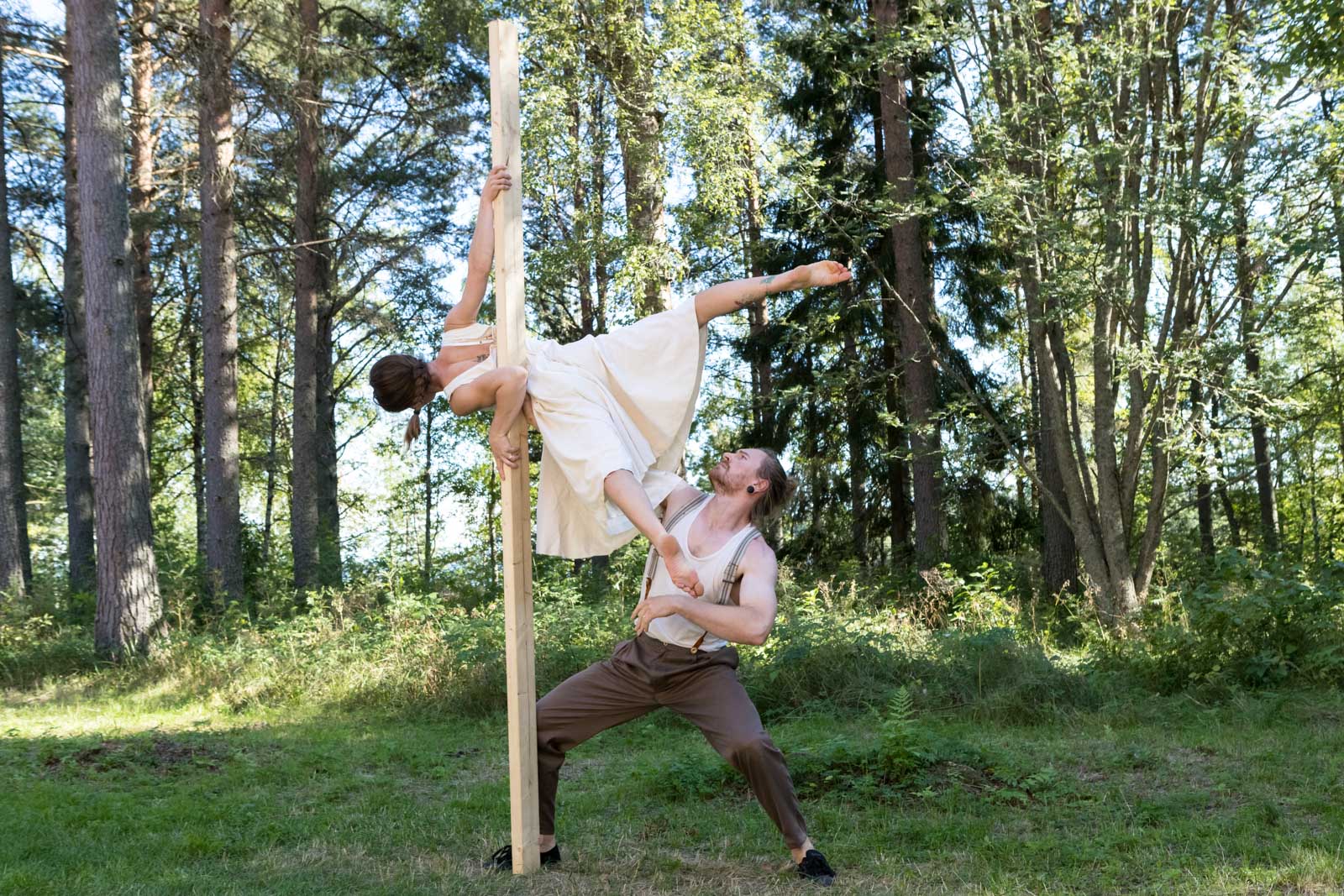 Our cultural personalities of the week are the Finnish-Australian circus and dance artist couple Katariina ja Jared van Earle who moved to Oulu two years ago. Katariina's background is in education theory and music while Jared's is in the audiovisual sector and graphic design. They studied together to become professional circus artists in Madrid and finally returned to Katariina's hometown Oulu in 2019.
Acrobatic duo Kat & Jared creates pieces of work that are suitable for varying environments, touching and meaningful by embedding different art forms to their pieces, and by handling, through the means of art, different themes that are emerging in the society. In the spring 2021, Shapes of Water, a piece of modern dance that utilises video art and projections premiered. It is about the different states of water in our surrounding Northern area as climate change accelerates, and its materials have also been taken into the neighbouring area's bodies of water during the summer. Theatrical version of Shapes of Water was created with financial support from Arts Promotion Centre Finland, Oulun Tähtisirkus and Taikabox ry and will be performed during the upcoming winter in Valvesali, Kalajoki and the University of Oulu. Last summer, the duo addressed the history of female work in their 2×4 piece in Varjakansaari and they are planning a piece addressing immigration together with the members of Arctic Ensemble circus company and bodily dialogue investigating Negotiation, Danish-Finnish choreographer and audio engineer. As freelance artists, Kat & Jared diversely collaborate with Northern cultural operators and in the future, you can spot them in Flow Productions' immersive piece Varikko and Oulu Theatre's Kaboom ja kuvittelun voima. Katariina and Jared love storytelling and waking up feelings through movement.
Oulu, together with 32 Northern Finnish municipalities, is the year 2026 European Capital of Culture! How do you feel about that?
Absolutely amazing! We want to build a home of Oulu where art can live and do well, a city where it is good for a freelancer artist to live in. Oulu's upcoming Capital of Culture title creates spark for rich collaboration between different cultural operators and the city, employment for professional and amateur artists, development of spaces dedicated to art and culture and in general, creates buzz and bubbles to the city's cultural life. This is an opportunity to be a performing artist who stays and roots into their own Northern hometown instead of experiencing continuous insecurity and being on the run, or instead of moving to the South.
What does our leading theme, Cultural Climate Change, mean to you?
That culture is truly supported. That words become actions. Culture would be appreciated for the culture and there would no longer be a need each time to justify how many euros we are saving from healthcare by investing in culture or how many euros of indirect income cultural events create. Just like actions against climate change, the need for Cultural Climate Change is already acknowledged but now it is the time for actions. We are handling Cultural Climate Change from the same starting point as climate change by recognising the meaningful experiences and important moments in our life and acting according to these values. Nature and culture create wellbeing and these are historically part of an individual's deepest essence. This is understood by everyone who really stops to wonder during which moments they have experienced feelings of happiness, meaning and freedom. Society's infrastructure, work and basic functions are like roads through which an individual gets to nature or to culture. No one wants to spend their whole life only building roads. Cultural Climate Change is that we truly learn to value, in addition to these shiny and fast roads, those places to which these roads take us and those who give new power into building the roads: culture and nature.
How do you find Oulu at the moment?
Oulu has a lot of operators who have the will to fight for culture and to create culture. Oulu is a city of amazing potential. Beautiful, marine and small but also large enough that you are able to and its worth to organise events, do theatre, play music, run a gallery, dance, move and enjoy life! Katariina, who is from Oulu, has always felt that Oulu has a lot of places to express oneself but also having these places requires that also in the future, there are opportunities and spaces also for grass roots operators such as Tilaa kulttuurille ry and Kulttuuribingo. At the moment, Oulu yearns for a non-hierarchical meeting place for those hungry for culture and active young people just like how Kulttuuribingo operated in the city centre of Oulu from 2012 to 2017. Future professional artists, politicians and events producers need inspiring and informal operating environments to develop. Just Valve and City Theatre, though vitally important, are not enough on their own to create a lively cultural city and this must also be remembered in the future.
How do you spend your spare time?
We love our work, and our spare time and work mix easily into an all-encompassing life that is full of creating art and exercise. During the winter, we also go snowboarding at Ruka and during the summer, we go to the summer cottage. We relax with a good book or in the company of our friends. And of course, while in Oulu, we go, see and experience lots of culture!
What will Oulu look and feel like in the year 2026? How do you think the Capital of Culture title will impact Northern Finland?
During 2026, there will be plenty more professional dancers and circus artists living in Oulu, just like people in the artistic sector in general. People will move to Oulu for the city's good cultural offering, cultural studies, to work in the cultural sector and for good practice spaces, recreational opportunities and performing opportunities. Hopefully, a new performing arts centre, similar to Helsinki's Kaapelitehdas, has also been created to Oulu, for example to the spaces of the City Depot to support the Capital of Culture project and these long-term goals.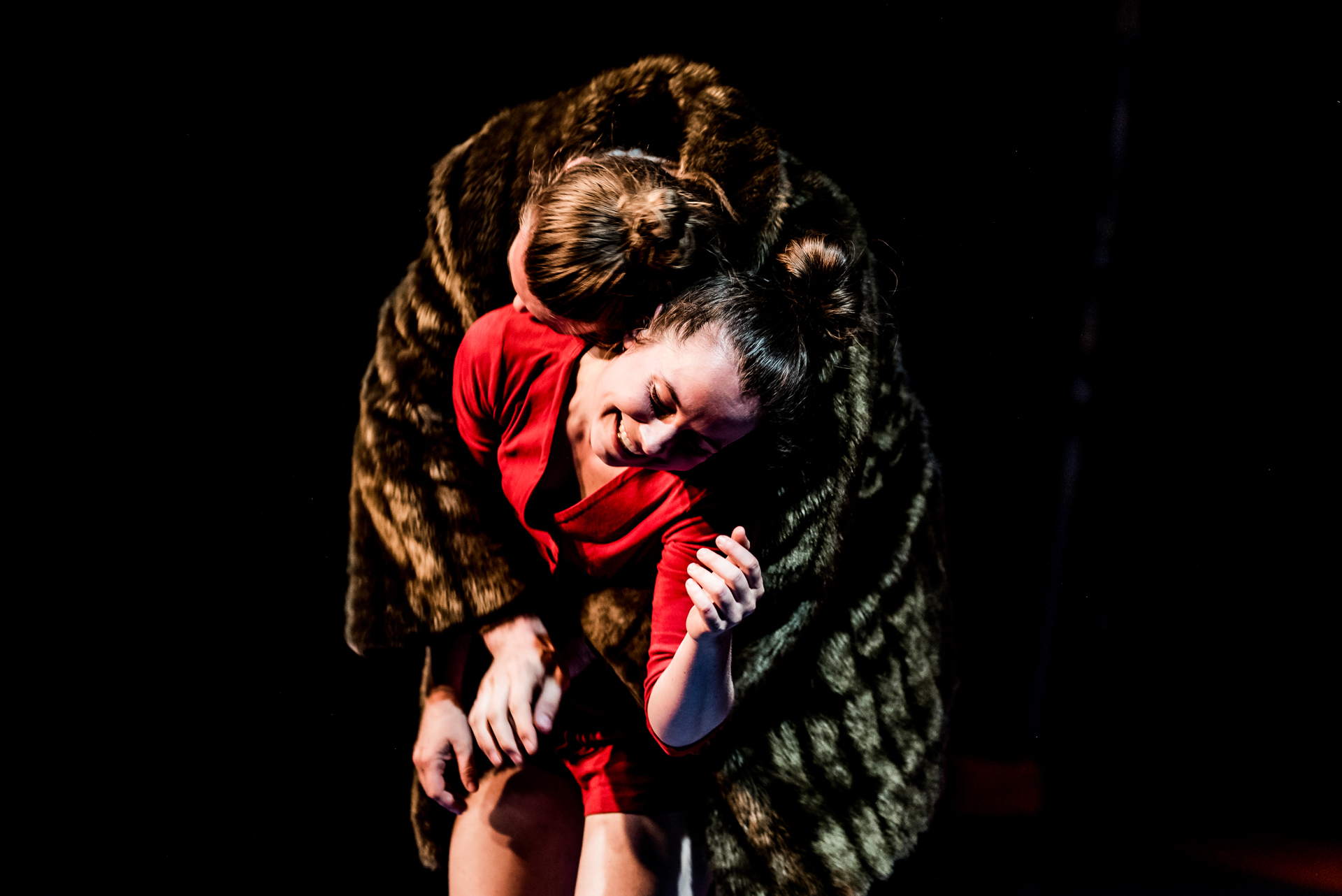 Photo: Gaby Merz
Cover photo: J-P Manninen