Writer Erika Benke
Photographer Janne-Pekka Manninen
A scientist opens a freezer and drags a heavy rectangular block of ice to the middle of a dimly-lit room. He starts chipping it away with a knife, putting bits of broken ice in the hands of the audience.
As the air turns noticeably cooler, he gives a lecture about the chemical process that takes place when a human body is frozen. "There are two options: you can freeze just the head, or the whole body. Then in the future you can be melted and be alive again," he says matter-of-factly.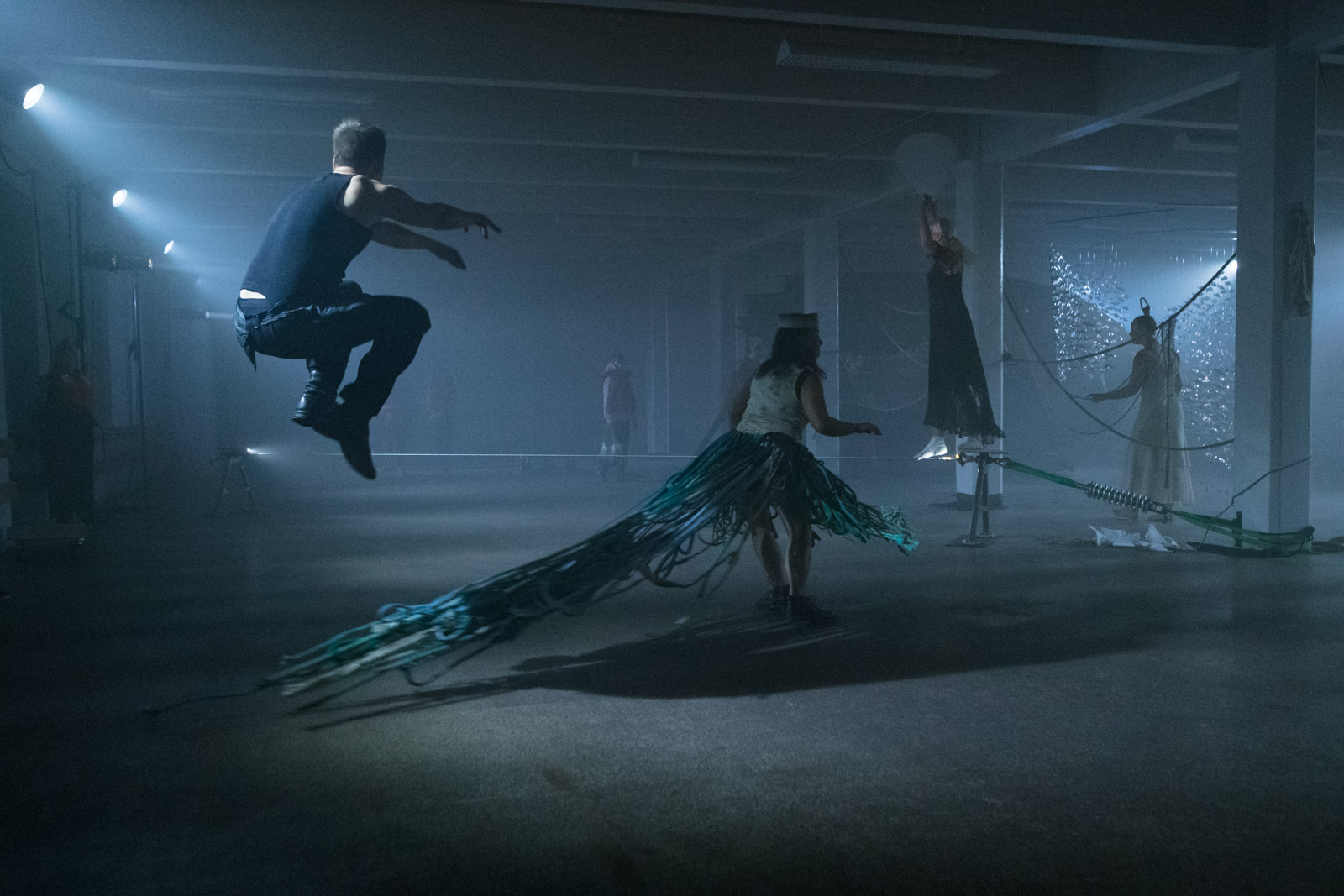 As if walking in a movie
As I watch the scene unfold, I'm approached by a bare-footed man wearing a shabby white vest, an oversized black jacket and loose-fitting sweatpants. He's quietly telling me that I look as if I need asylum and invites me to follow him.
He's not someone I would trust to buy a used bike from, let alone giving me asylum. Still I can't help but go with him: I'm curious, though deeply suspicious. We break away from my fellow audience members – there's about 40 of us, all wearing bright orange safety vests and Covid19 masks. The two of us pass a cabinet with its door slightly ajar: just enough to catch a strong smell of fish and a glimpse of several neat rows of tiny black-and-white photos.
The man leads me to a small room that looks like a prison cell. "This is where you apply for asylum if you want to come to my island," he says. I'm relieved that he doesn't slam the door on me after I politely refuse the offer. He still insists on showing me his island. It's next door and it has a few odd pink palm trees. I quickly make my escape back to the main auditorium.
Immersive and multi-disciplinary
Welcome to Hylky – an immersive show, which means the audience is walking inside the piece, engaging with the performers. The story features shipwrecked characters trying to come to terns with their nightmares and figure out what to do next in their lives. The audience follows their stories by wondering around a building: they can choose to stop to explore a character's fears, hopes and dreams more deeply. Equally, they can choose to pay no attention to other characters.
There are three large spaces and numerous small ones in the 2000 square metre building where the performances are held. You can get very close to the performers if you wish – or you can choose to watch from a distance.
The Oulu shipwreck that inspired the show
And it's not just one art: it's a multi-disciplinary spectacle combining dance, circus acts, visual arts and music. There are some amazing acrobatics: wire dancing, a lot of movement, underwater swimming (and drowning). There's also songs and monologues, smells wafting in the air and some interesting textures to touch.
Hylky was inspired by the Hahtiperä shipwreck that was found a year ago in Oulu. Parts of the ship, built in the late 17th century, have been used to create the set.
Hylky is a powerful watch that appears to capture and mesmerise the audience. Some people looked spell-bound. It's a very spontaneous and thought-provoking, full-on experience. Everyone in the audience is likely to find something that strikes a particular chord and resonates very strongly with his or her own life. To me, it was a woman obsessed with conserving memories in salt, vinegar and oil in a pantry full of pots and jars. She served up a reminder of how very little I was doing to keep my parents' spirits alive and spurred me into action straightaway.

Erika Benke

The director
Hylky is the brainchild of Oulu-born Pirjo Yli-Maunula, artistic director of Flow Productions. Bursting with pride at the end of a very well-received performance, she says she's been getting very positive feedback. Audiences are impressed and many are left in tears as they reflect on their own lives during the show, she adds.
"The story is not just about getting shipwrecked but also about the different ways we feel in our lives when we are shipwrecked metaphorically: when you're sick or get divorced, you lose somebody or you lose your job: scenarios that we all experience."
Pirjo is full of passion for what she's created but she says success is down to team work. So what was the process? She says she first found the venue – Hiukkavaara Garrison, an abandoned building at Hiukanpiha 9. Then she came up with the basic concept: the title and the theme. Next she gave each artist a few key words to think about – for instance, one of them was given borders and walls, us and others, army, slums, immigration, refugees, asylym centre, shipwreck, abandonment and coronavirus.
"Then I ask the artists how they would like to work with these words in this space and build scenes," Pirjo says. "I'm not a choreographer in a traditional sense. The concept is mine and I direct the piece but the other artists are creating the piece with me," Pirjo says.
International production
Hylky is an international production: two of the eight performers are foreigners.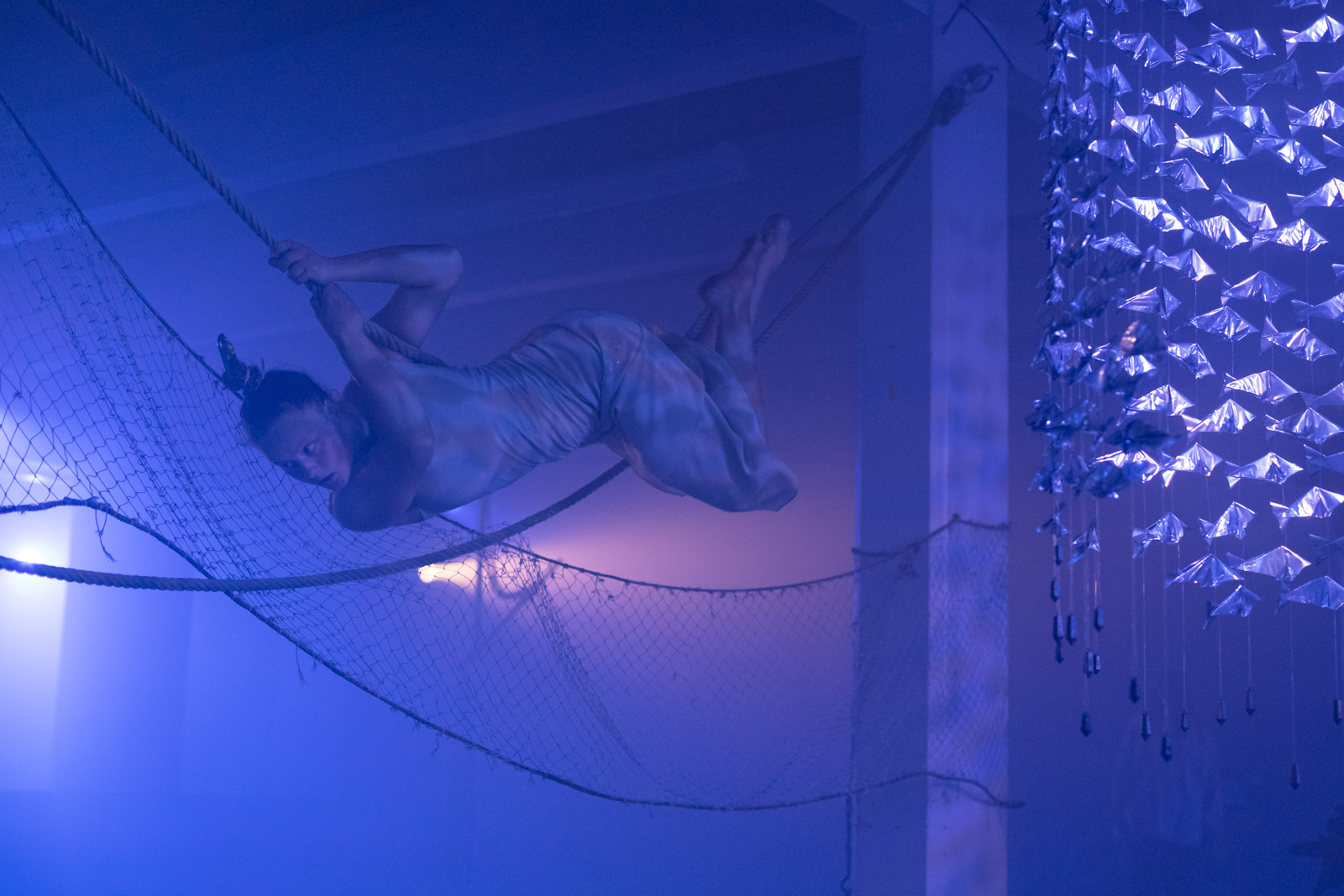 Emma Langmoen is a 23 year-old Norwegian artist. She was born in Oslo. She dropped out of school at the age of 17 and chose to study circus arts in Lahti.
This is the second time she's performed in Oulu. She loves the city so much that she's considering moving here. Why?
"It's beautiful city. Nature is very close. You walk for ten minutes and you're in a wonderful green area. People are very open. Finnish people can be a bit shy but here I have a lot of conversations with strangers in the street."
Emma is also drawn to Oulu because she believes the artistic community has some unique features. "Here it's inter-disciplinary: whereas in other big cities, artists block together with other people who do their own field, in Oulu there's an open atmosphere: people are sharing and working together. There's a collaboration across borders and across genders and I feel like I'm connected to the region."
And what's the key message of Hylky for Emma?
"We're all on this little planet together and we have to help each other: whether it comes to the refugee crisis or the climate crisis. We have to collaborate on a whole new level. If we continue hoarding for ourselves, living individualistic lives, we will be shipwrecked."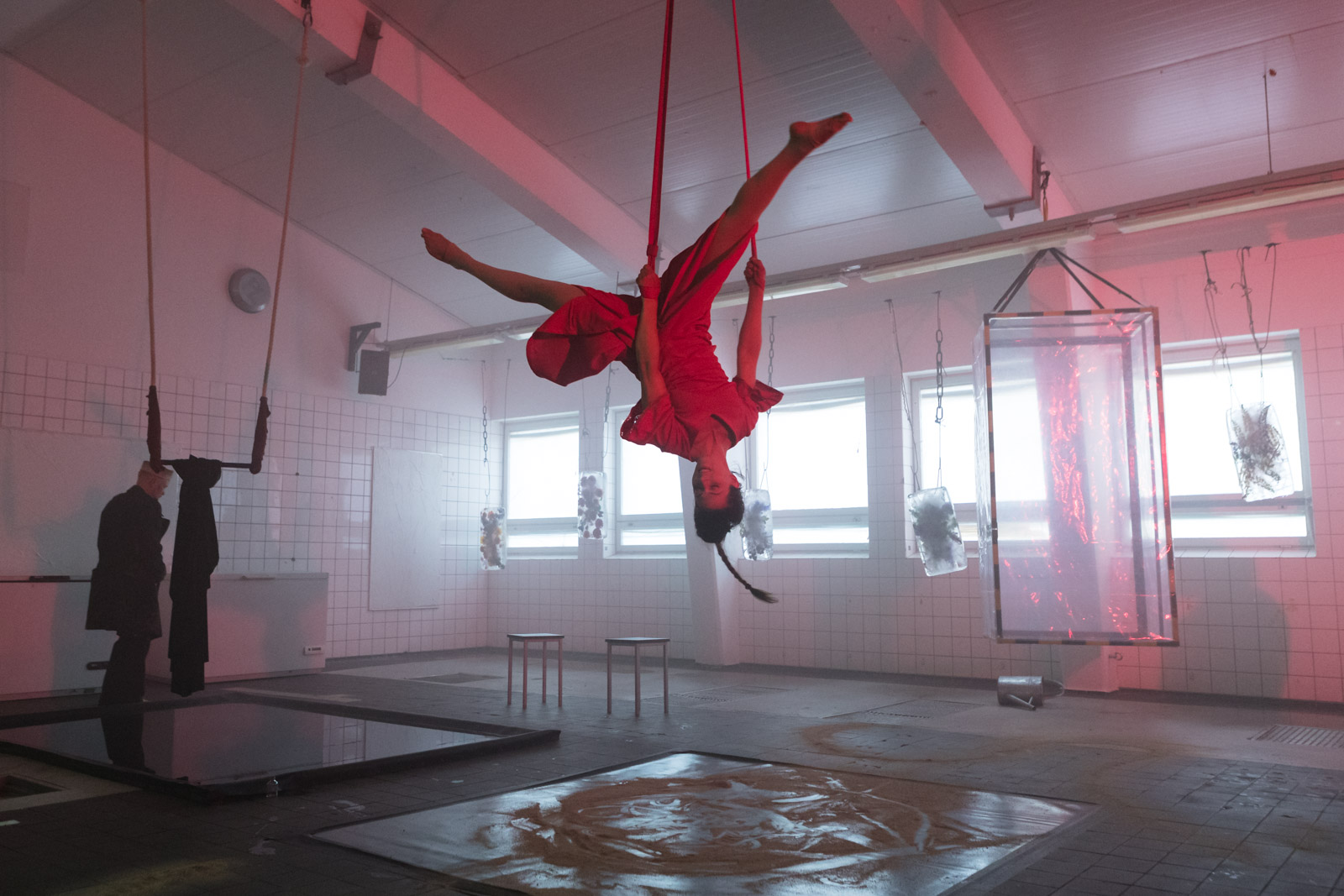 Angeliki Nikolakaki is a 37-year-old artist from Greece.
She was born in Athens. After graduating as a civil engineer, she started an office job, working from nine to five in front of a computer. She went on four-hour dance classes after work to learn acrobatics. She felt energised and a different person – and soon realised that this was what she wanted to do as a job. At the age of 27 she changed careers: she moved to England to study circus arts.
She's in Oulu for the first time. What does she make of the city?
"I like Oulu very much. I like cities of this size. I like the landscape: it's next to the water. People are very kind and helpful. And the cycling routes are amazing. I found it hard to adjust to the fact that it was never dark when I arrived. It was the first time I experienced that."
This is also the first time Angeliki has taken part in an immersive performance. She says the skills of guiding the audience and interacting with people came naturally to her – and now she wants to do more: "It's addictive: here we blend with the audience. Different things happen in each show because the audience reacts in a different way which keeps it fresh."
And the main message of Hylky: "We're all together in the same boat in life. We're all the same, we're all equal, we go through the same pain and struggles. We're all one."
20 performances Oulu, from August 26 to September 19, 2020
Budget: 117,000 euros
Eight performers, a total staff of 20
Seven weeks of rehearsals
Sets built in three months
HYLKY Trailer from Flow Productions on Vimeo.