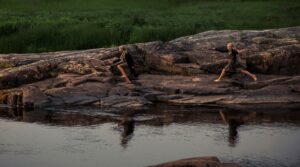 Northern Stories-project develops new ways of bringing stories to their authentic locations using technology. The aim of the project is to create several themed routes with user-friendly mobile technology. We are mapping and collecting the stories around local culture and history from the Oulu2026 European Capital of Culture area together with local cultural history experts and citizens. We recognise that urban Oulu and the surrounding northern villages are filled with untold stories. We want to bring the stories to the people in an approachable and experiential way in the urban space and wider in the area.
Northern Finland has a rich history filled with stories about destinies, meanings, and revolutionary events. Our area is known for, among other things, air guitar competition, Tierna Boys tradition, presidents, and Oulu Kärpät.
We want to hear more stories! Which stories are important to you? Answer a brief survey from this link.
The survey is open until June 21st. You can additionally send story tips to us by mail to address Oulu Culture Foundation, Torikatu 18, 90100 Oulu. If you want to share your story tips in other form, then you can send them to anne.makela@oulu2026.eu. Among the respondents, we will draw a Museum Card (€76), which allows free access to hundreds of museums in Finland.
Together with experts in cultural history and the residents of the area, we will review the stories and phenomena that should be told. The citizens' own personal stories also fascinate us. We will collect more personal stories in the autumn. The scripts for the selected stories are written by professional writers. For the promotion of the stories, a suitable implementation method will be chosen. The purpose is to create a simple easy-to-use operating model that can expand after the project in terms of content and geography. Later this year, the citizens of the municipality will be able to test routes.
Stories strengthens local identity and creates tourist attraction
We bring out the diversity of the region's culture through stories. Offering intangible experiences in a way that is accessible to everyone strengthens the local identity of the area's residents in everyday environments and creates tourist attraction. With the help of the project, in addition to attraction, the residents' awareness of their own roots is also strengthened.
More information: Project Manager, Anne-Maria Mäkelä, anne.makela@oulu2026.eu, 040 673 5155
Implementer of the project: Oulu Culture Foundation sr.
Main financier: Council of Oulu Region
Project implementation period: March 1st 2023-February 28th 2024