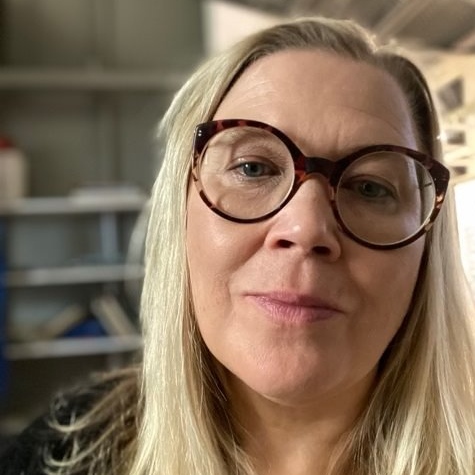 Elena Näsänen is a Master of Fine Arts, visual artist and a filmmaker. She acted as the Chairperson of Artist's Association Finland between 2004 and 2007. She has worked as Production Advisor for the Promotion Centre for Audiovisual Culture (AVEK) between 2004-2007, in other positions of responsibility such as the Chairperson of MUU ry, and has participated in the operations of international artists associations. At the moment, she is the Chairperson for AV-arkki's board. Näsänen was granted the state's five-year Artist Professor grant 2021 that begins in 2022.
Is Oulu a familiar city to you?
"Oulu is somewhat familiar to me as a city and I have visited there. As a child, I spent time during the summer in Hailuoto at our family friends and I have many good memories from those days."
What image do you have of Oulu?
"I have a very positive image of Oulu. While there, I have enjoyed myself a lot and I think that the citizens of Oulu are easy-going, competent and extremely pleasant people."
What are your thoughts about joining the board of the Foundation?
"I have not previously been involved in such a large project so I'm very excited about what is to come. The project is unique and I'm widely interested in all of its aspects. It is rewarding to get to have conversations with the board. I'm looking forward to the collaboration with different artistic sectors, and want to take into account both big and small creators."
What relevance does the European Capital of Culture title have for Oulu and the Oulu2026 region?
"The title is great and will bring Oulu lots of visibility both in Finland and internationally. Hopefully as many international visitors as possible find their way to Oulu, especially during the festival year in 2026. It is interesting to see how the commenced processes continue also after the festival year and how far the Capital of Culture title's impact carries to.
What are you specifically bringing to the Foundation? 
"I'm an artist myself so I will bring to the foundation the perspective of those creating art. I want to pay attention to that prerequisites for artists' operations improve. I'm particularly interested about media art which combines multiple artistic methods and making that more visible."
How do you spend your spare time?
"I do yoga, casually go to dancing lessons and walk around in the forest with my dog. My autumn is a very busy time due to different projects and exhibition preparation, and I'm hoping to be able to do more of the things I mentioned.