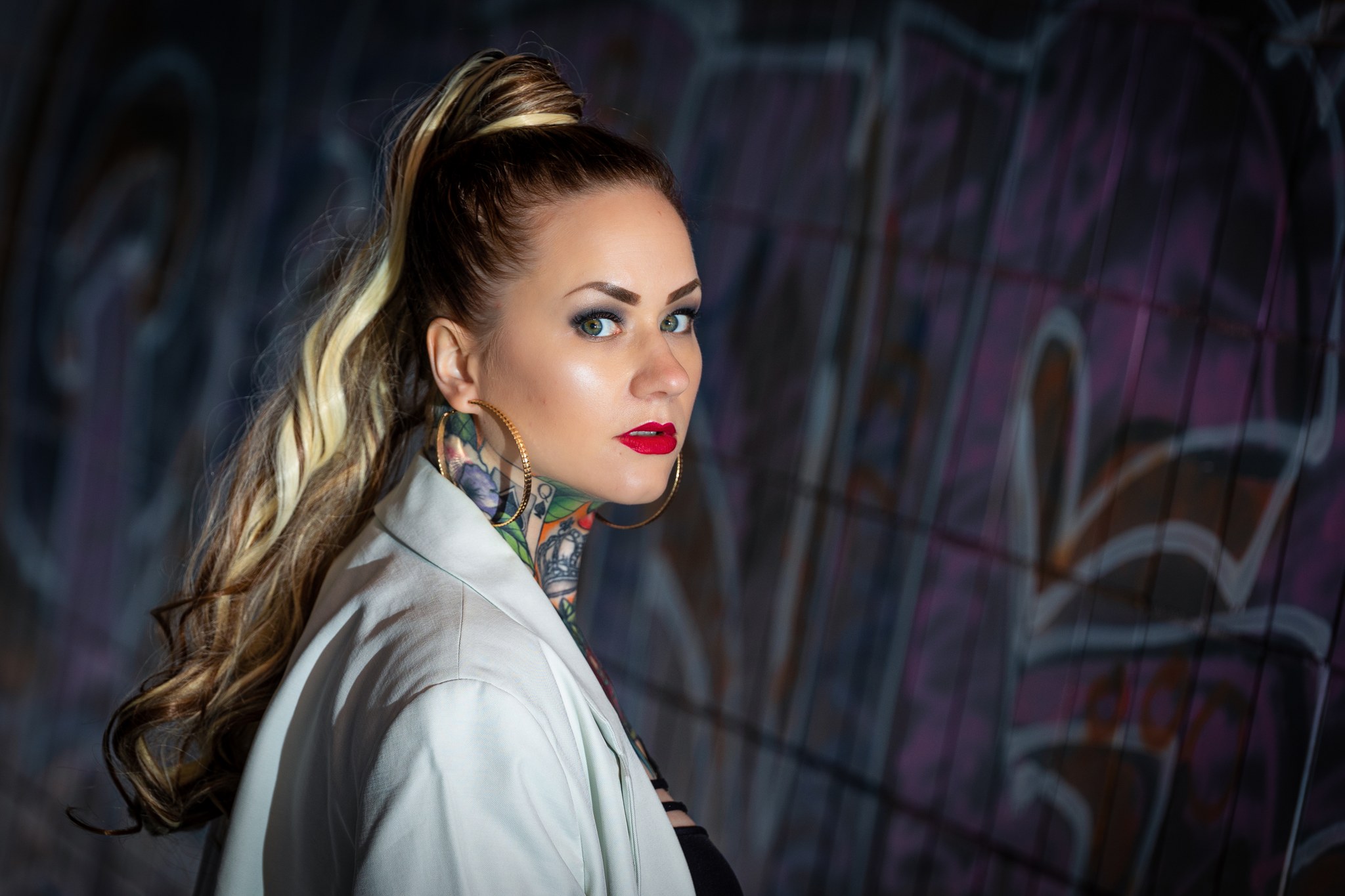 Our cultural personality of the week is Sanna Rönnberg, better known to the audiences as Sana, under which name she has been making music since 2005. Sanna says that her dream of a career in music started when she was seven, when she first heard American rap on the radio.
"The rhythm and spoken lyrics fascinated me and eventually became my thing. That's when I decided I'd be a rapper when I grow up."
Although she busied herself with plenty of other interests over the following few years, she filled notebook after notebook with rhymes and at the age of 15 she ended up at a recording studio by chance through a friend. And the rest is history.
"My early work was very much like a young girl's diary, pouring out my teenage sadness and personal anxieties." Sadly, I developed an unhealthy relationship with alcohol, which eventually robbed me of a decade of my life. I stopped drinking in 2015 and restarted my professional music career with clearer goals in 2017 together with my producer Vesa Lappalainen."
Sanna is grateful that her passion for music never disappeared even during the most difficult times. With Lappalainen, Sanna could assume a new direction with her musical expression towards a more pop sound.
"I always wanted to be an artist, because I simply making and performing music."
Communicating genuine feelings and stories and raising issues that are less talked about is important to Sanna. Sanna's dark sound is a combination of modern pop and rap with to-the-point lyrics.
Some may remember Sanna from X Factor Finland 2018 or the duet she recorded with Aki Tykki of Happoradio, others from her anti-bullying postings on social media or her openness about her addiction to alcohol.
"Besides making music, I also want to share my experiences to help others. I'm not ashamed of my experiences, I've turned them into a strength."
What are you up to these days? How do you spend your spare time?
"I've been quite busy with our new live line-up that includes drummer Juho Mikkonen and guitarist Sami Perttunen. The songs have new arrangements that clearly veer towards rock. We have also been working with dancers Aino Mykrä and Krisse Pakarinen for our electronic-based show which we will take on tour supporting 50 Cent in Finland. Our show is now ready for the big stage and if feels great to be able to say that I'm truly ready for that as well.
In addition to perfecting our show, I have also written new music, which is really exciting. I'm a self-publishing artist, so I take care of the whole process from start to finish, leaving me very little time to do anything else. Few people understand how much work it takes to be an artist. So, my life is filled with music but I also share it with my four cats and I enjoy the outdoors, and now that the autumn is coming, I love staying in, chilling in the candle light and watching reality TV."
What does our leading theme, Cultural Climate Change, mean to you?
"Increased transparency, opportunities and support as well as courage and the freedom to break boundaries and to express yourself in the way that comes naturally to you. Art, like music, has incredible power. It helps us when we hit a crisis point in our lives, it gives us strength and energy. We musicians and artists put our entire soul into what we do, and if we self-publish our work, we invest all our money as well. The result, the work of art, or in my case a song, is like a child: we carry it inside us, give birth to it and send it out into the world. Then you watch it grow and evolve with great tenderness and pride, hope it has a bright future, and plenty of luck and success. However, this is not always the case, and sometimes my songs don't reach the audience. Smaller artists don't have the resources to promote their work, which is why so much talent goes unnoticed.
I hope that the Cultural Climate Change would bring less famous artists more opportunities, visibility and support from our home town and its people so that it would be possible for more and more artists to work and express themselves without having to leave here. Over time, Oulu could become a place that attracts new artists as well."
What is it like to work in Northern Finland? How do you find the Oulu2026 region at this present time?
"I'm originally from Espoo but I've lived in Oulu for more than half my life. I love Oulu and enjoy living here but to be honest building a music career from here has not been easy. That's why it is great to see how the cultural life of Oulu has got a completely new drive to it. It feels like there are many more music events highlighting local artists. All we need now is for the audience to show up and be more active and open-minded towards their local talent. Oulu is home to an insane number of extremely gifted creatives, who deserve to be seen and heard!"
What will the Oulu2026 region look and feel like in 2026? How do you think the Capital of Culture title will impact Northern Finland?
"I hope that the title is just the beginning to a lasting imprint on the cultural development of Oulu and the entire northern region, as well as cooperation between different actors, which will give a platform to a wide range of local talent. I believe the title will boost the local travel industry and add vitality to the entire region.
I hope that in 2026 at the latest, if not earlier, Oulu will see the beginning of a new era in which culture is seen and heard in the city, we enable and support each other and give cultural creators equal opportunities to showcase and develop their art.
For me personally, I see Oulu2026 as a unique opportunity to find new audiences for my music, build networks and be part of the effort of building our capital of culture."
What does culture and music mean to you personally?
"I live and breadth culture and music. It is power and light, it is pain and tears. It is my whole life. It's all I have and I don't know what I would do without music."
What could Oulu do to improve the position of producers of culture and sports?
"Provide funding and help match creators with the right collaborative partners, provide visibility and opportunities and show genuine interest towards our work. We have such a huge number of potential artists who all need support and encouragement. Sometimes it is enough that someone believes in you and offers to help you – whatever that help is. The worst thing is to be left alone."
What are your future dreams professionally speaking?
"I dream of being able to play regularly with my band and of course of bigger stages. I hope my music reaches more people and gives them strength, so I hope for more radio time so that my music is heard more widely."
Previous Cultural Personalities