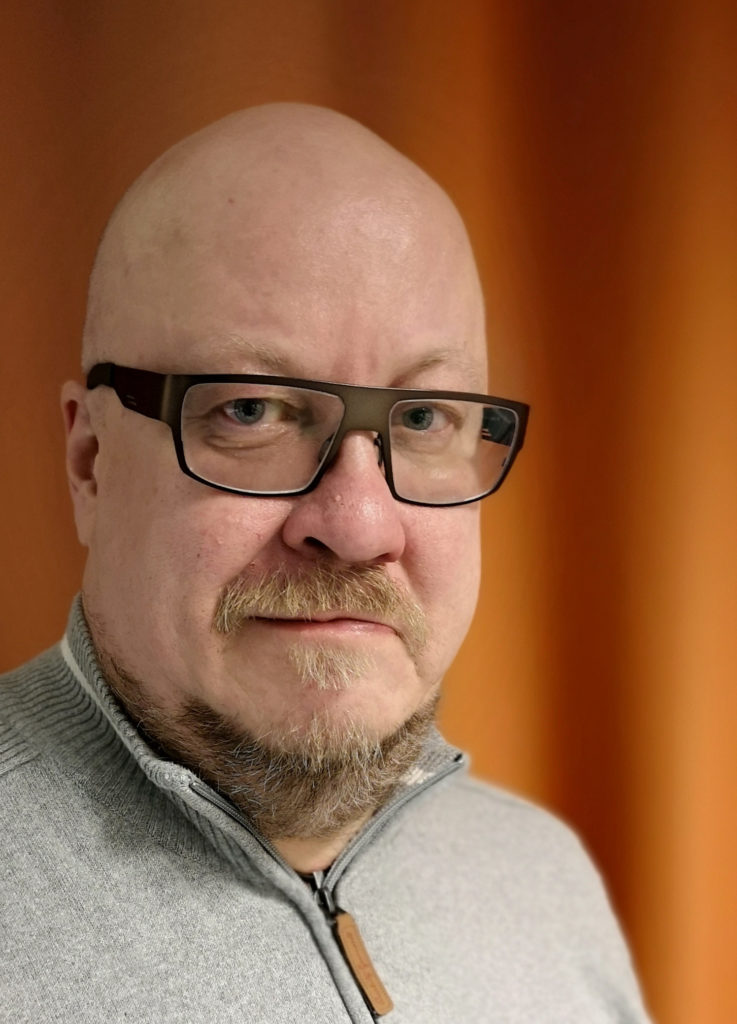 Our cultural personality of the week, collaboration coordinator of the Museum and Science Centre Luuppi, Sampo Puoskari, knows Science Centre Tietomaa like the back of his hand – Puoskari began his career at the science centre all the way back in 1993.
Puoskari has previously worked as a journalist and his hobbies include reading, movies and voluntary national defence work. Puoskari hasn't completely abandoned his work as a journalist, as he is the editor-in-chief of Northern Ostrobothnia's national defence publication Pohjanpoika.
Sampo, how does your life look like and feel now during these exceptional times?
One year ago on Valentine's Day a boy was born to my family, and during the long-distance working period I have had time quite nicely to follow his growth and development. I live in Pattijoki, so the daily travelling to Oulu has become a lot less frequent during this time.
Regarding work, Tietomaa has been closed for long periods of time due to covid-19 restrictions, which has stopped for example guided tours from my part completely. However, I have filled the void by starting Tieto-Sampo's Facebook updates on Tietomaa's Facebook page and also by making science videos for Tietomaa.
How does Oulu look like through your eyes right now?
Right now Oulu is being developed a lot in different ways. The expectations for the future are great and Oulu has every possibility to start being really dynamic after a few years of being relatively passive.
For the Museum and Science Centre Luuppi, the space project for our main destinations (Tietomaa, the Northern Ostrobothnia Museum and the Oulu Museum of Art) is crucial for the cultural life of the city, for the popularization of science as well as for tourism. Many people don't understand that Finland has only two general science centres, the first of which was opened in Oulu.
Luuppi's opportunities are unique in our country when we talk about combining science and art, or for example when we think about STEAM (science, technology, engineering, art and mathematics), which is now renewing education and teaching.
Oulu, together with 32 other municipalities, is bidding for the title of European Capital of Culture (ECoC). Why would northern Finland be suitable to win the race?
The north has many attractions and distinctions that the rest of Finland doesn't have. A snowy winter, freezing temperatures, the northern lights and a diverse nature in its entirety, as well as a friendly and hospitable human character are characteristic to us. Oulu is in the middle of Finland and is the undisputed centre of half of the country. Furthermore, we are also excellently connected through different means of public transportation.
What does our leading theme, cultural climate change, mean to you?
The traditional way of thinking has been that culture is the first sector where to cut funds when money is short. Now that we are living the second year of an exceptional time globally, the lack of cultural offer has been visible in everyone's daily life and the media every few days. Maybe all of this has a meaning. When we compare the tourism numbers and financial incomes, as well as people's well-being indicators of these pandemic times to normal times, decision makers realize what a huge impact culture has – both performing arts and arts at exhibitions, as well as for example science centres – on the overall well-being of people.
Send your regards to the Oulu of 2026, when we are the European Capital of Culture
Parochial thinking is not our thing, as we all can be proud of our own role as a European Capital of Culture. In one year, we can do things that can leave a legacy that can be visible for dozens of years. Now is Oulu's turn!