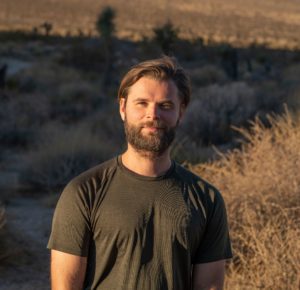 Our cultural personality of the week is the Danish artist, Jakob Kudsk Steensen, whose work focuses on how humans, technology and natural environments connect. He is known to bring together physical, virtual, real and imagined landscapes in mixed reality, interactive and immersive installations.
Jakob, how does life look like and feel now during these exceptional times?
This year has given me the opportunity to refine my focus to the hyper local, the sensory and to opening up the idea of the creative process. Life feels more organic, chaotic and less bound by traditional barriers and expectations. For me, this means a more organic approach to exploring an artwork. First, I engage with the physical and environmental, and to bring this energy into the virtual. This allows other poets, artists, creators and musicians to join and also bring their own unique inspirations and energy into the work as an evolving organic matter, much like life right now.
How do you feel about partnering with Oulu2026?
I am very excited to partner with Oulu for the 2026 European Capital of Culture! The approach I use is based on investigating overlooked perspectives of the local environment. I am looking forward to spending quality time and immersion in Oulu as I develop the artwork, learning and seeking inspiration in its many forms, including a collaboration with local choirs and musicians, by which I am very much inspired.
Oulu, together with 32 other municipalities, is bidding for the title of European Capital of Culture (ECoC). Why would Northern Finland be suitable to win the race?
Northern Finland, strong in its character, is also at the edge of the arctic and facing change at a greater than ever pace. Now is the time we must pay attention and celebrate the culture of this region. How can we experience what this precipice of change looks like throughout history and across perspectives?
What does our leading theme, Cultural Climate Change, mean to you?
With the advance of climate transformations worldwide we are entering a new landscape, geographically, politically – but also emotionally and sensory. When the exterior world changes, our inner states also transform and adapt. I am interested in exploring the unseen and unsung perspectives of these Cultural Climate Change, and weave wonderment from the past to the future, beyond timescales, through new ways of sensing and feeling each other and the natural world around us.
Photo: Courtesy of the Artist