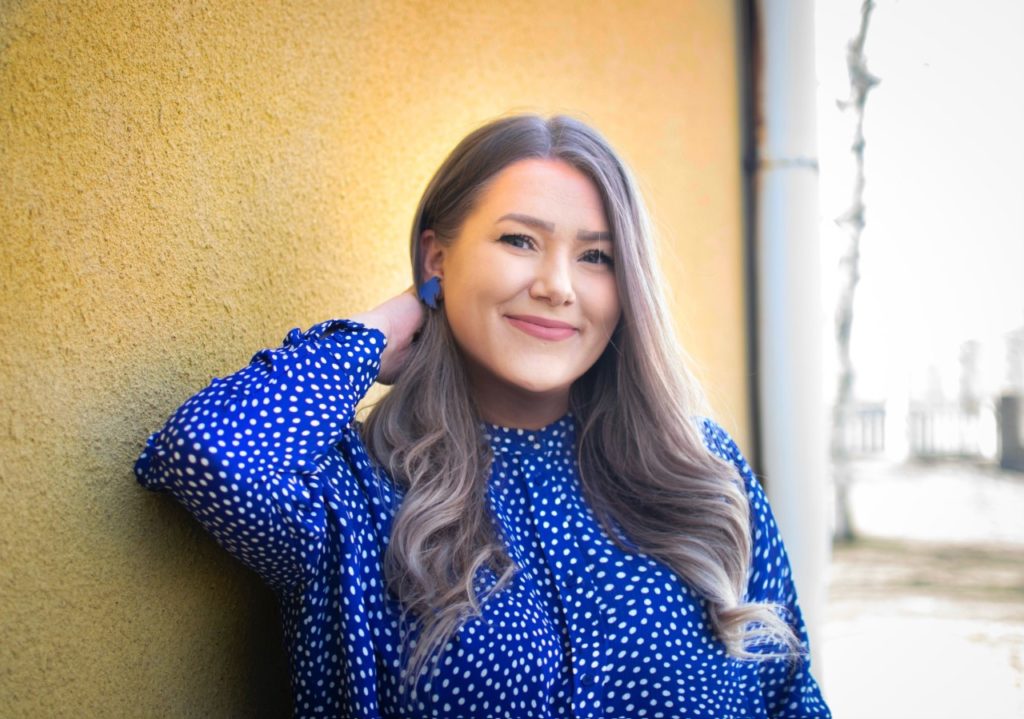 Our cultural personality of the week is a 28-year-old culture producer and music pedagogue, Asta Salomaa, who is passionate about developing northern art and culture. At the moment Salomaa, who has produced several events and festivals in Oulu, works as a project manager for The Annual Air Guitar World Championship Contest and as a producer for The Oulu Culture Events Association. Salomaa is also the president of the board of the Oulu Music Video Festival.
Salomaa is originally from Helsinki but moved to Oulu almost 10 years ago to study music education at the University of Oulu.
Asta, how does your life look like and feel now during these exceptional times?
Life looks and feels alright, although the covid life is very tiresome. During the uncertainty of the covid times, and as my own work projects have been threatened, I have found strength from friends, winter swimming, sports and handicrafts.
How does Oulu look like through your eyes right now?
Oulu looks beautiful, familiar and safe to me. My home is here, and I enjoy being here. I live in a place near water with beautiful sceneries and I love that I can get anywhere with a bicycle. Oulu is full of colourful and diverse art and cultural life and here I have had good opportunities for professional self-actualization.
In Oulu there is a good team spirit in the cultural sector and during my career I have received a lot of support and advice from experienced professionals
Oulu, together with 32 other municipalities, is bidding for the title of European Capital of Culture (ECoC). Why would northern Finland be suitable to win the race?
The Oulu Music Video Festival has for a long time now been described with the term "Northern weirdness". In my opinion this is an excellent term to describe also more broadly the originality and bravery of the art and cultural sectors of Northern Finland. I believe that the northern weirdness will bring the victory to Oulu in the competition for the title of the European Capital of Culture.
One of the most important competitive advantages of our region is the high-quality art education and music class activity. I myself am an example of a person who has moved from the south to the north because of art education. For me, the main attraction that brought me to Oulu and made me stay was the music education programme of the University of Oulu. In this region, the art education is an area of culture that keeps on developing and reforming: The trained music educators, music pedagogues, dance teachers and other art educators inspire yet again new people to create culture to our area.
The journey towards the European Capital of Culture is first and foremost about development. With all its imperfections Oulu is ready for this trip, because you find passionate and professional cultural developers in Oulu. One of these is The Oulu Culture Events Association, where we want to help the cultural operators in the region to flourish and to bring art and culture to everyone. Indeed, those who are interested in northern culture should follow the "Pohjoinen kulttuurivirta" channel that we have produced, where we introduce people who create northern culture, and also bring up conversation topics around the theme.
Furthermore, Oulu is not lacking international appeal, although that may be difficult to see here in the middle of our everyday lives. In February I received an excellent reminder about this when I started working with air guitarists from around the world. As I got to know these artists better, I found out that the Oulu that is so familiar and ordinary to us is like the wonderland of dreams for them, as they compete and dream of getting there. International attractions, such as The Annual Air Guitar World Championship Contest, will take us to victory in the competition for the ECoC title.
What does our leading theme, cultural climate change, mean to you?
For me cultural climate change means that with art and culture you can affect the atmosphere and attitudes in the society. As a part of cultural climate change art and culture can be harnessed as ice breakers in challenges that face our community. I wish that in Oulu cultural climate change would reduce confrontations between different people and ideologies and would increase equality and understanding towards diversity in our community.
Cultural climate change also brings up more of the voices and stories from those members of our community to whom we do not get to, or know how to, stop and listen to. This requires that we, the creators of culture, constantly critically evaluate our own activity and the power structures of our community.
Send your regards to the Oulu of 2026, when we are the European Capital of Culture
Congratulations Oulu! It's your time to shine!
Image: Anni Hyypiö