We're having an amazingly beautiful winter in Oulu. For two months now, the city has looked like a Christmas postcard, buried under extreme amounts of snow. On some days it's like a frosty scene from a fairy tale. The moment I leave the house, I have to stop to take photos. The views are stunning and they are different every day, especially now that the light is increasing dramatically.
I love winter so this is my kind of heaven. Some of my Finnish friends have had enough of snow work by now and there's even one who refuses to go outside in -25. I'm just the opposite. I'm actually a bit sad that it's already March and winter is scheduled to end in a few weeks.
There's only one activity related to snow and ice that I don't like: ice-fishing. I understand that spending hours in a huge white space above the frozen sea can be a meditative experience that's good for mental health. But it's very cold as there's very little action.
I love being out skiing, running or cycling as I feel warm while exercising, no matter how cold it is. But I didn't enjoy loitering on the ice while doing an interview with a fisherman in late January.  There's not much fun in standing on the ice in one place, with the wind picking up. After an hour and a half I thought I was turning into a block of ice, freezing from the inside. I'd never ever felt colder in my life and it was only -7 degrees. Thank goodness for saunas: I managed to defrost without any damage but even editing the interview pictures on my laptop a few weeks later made me shiver in a perfectly warm house. See the video of the Ice fishing.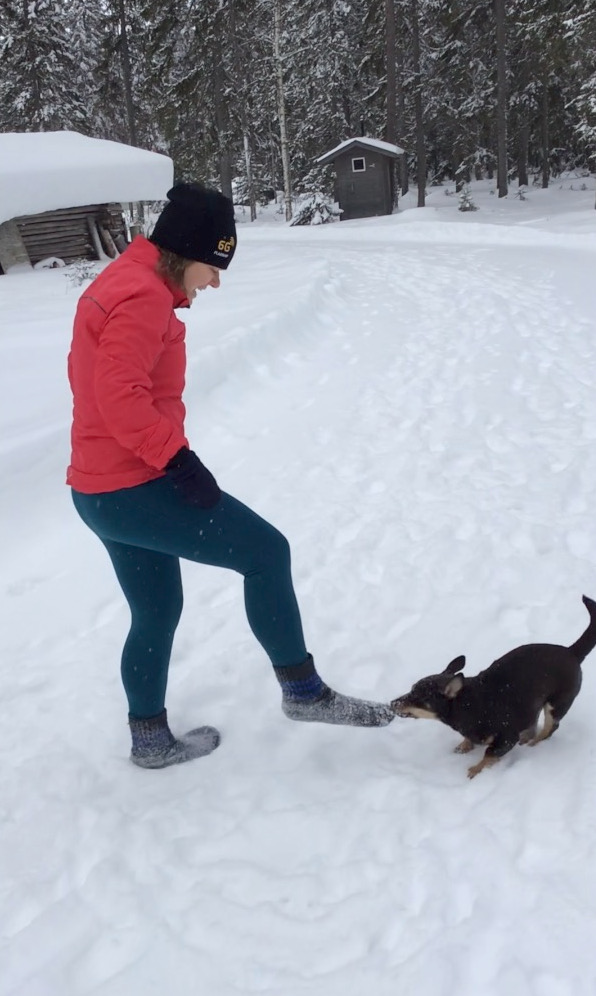 On the plus side,  I've made two snowy discoveries that I love: one is villasukkajuoksu. It's a very natural, soft feeling to run in tons of fresh snow without shoes and I don't feel the cold at all. To be fair, I didn't do more than 600 metres on my first run. I was running with a friend's dog who was clearly against the concept. He kept trying to take off my socks and when he failed, he almost tripped me up by running in between my legs. But even that was fun, adding to the excitement.
Nevertheless I liked the experience so much that I did another villasukka run, this time without a dog, in a forest about five hours' drive to the south from Oulu. I got a bit further than 600 metres and I was really enjoying it until I heard a sound that I didn't recognise but found a bit unnerving. It certainly disrupted the euphoria of running in the snow and I decided to turn back.
When I was back in the house, my host casually informed me that there was a pack of wolves living in the forest. About 40 of them. "But don't worry, there hasn't been an attack on humans in Finland in 100 years", he added. I'd heard that before but somehow didn't find it reassuring. Especially not in a pair of snow-covered socks. And why do Finnish people not tell you about wolves before you go on a run in the forest in the first place?
Wolves aside, my most exciting new experience in the last two months was jumping into a meter and a half of fresh snow in Rokua, and almost disappearing in it. I've always wanted to jump into a pile of snow from a rooftop but never had a chance before. So this was a dream come true. Totally exhilarating, almost intoxicating. Definitely one to repeat before winter is over.
And there's one more winter experience to come: next weekend I'll be spending a night in a laavu in Oijärvi. That will be quite an adventure. I've never slept outdoors in the winter so I'm very excited. I've been told it will feel cosy and warm in the sleeping bag but I have my doubts. We'll see. At least there are no wolves or bears nearby. Or so they say.
Erika Benke, journalist.
born in Hungary. Moved to London (-97) to work for the BBC.
Now lives in Oulu and works for the Oulu2026 project.