Boden is one of Oulus Twin Cities. In Boden we live by the terms of Närhetsliv. By that we mean the life where you are close to everything that is important and a little more – the children's activities, your job, schools, cultural events, attractive house plots, shopping and experiences close to nature.
We say that Närhetsliv is for everyone. Regardless of age, gender, ethnicity or sexual orientation. Regardless of whether you come here from Luleå, Oulu or Somalia, we will create an inclusive climate where everyone feels a sense of belonging, security and an opportunity for development. Therefore, it is logical that people come here to start a business, study indie game development, to seek a new lifestyle or just to visit. We hope to see you here!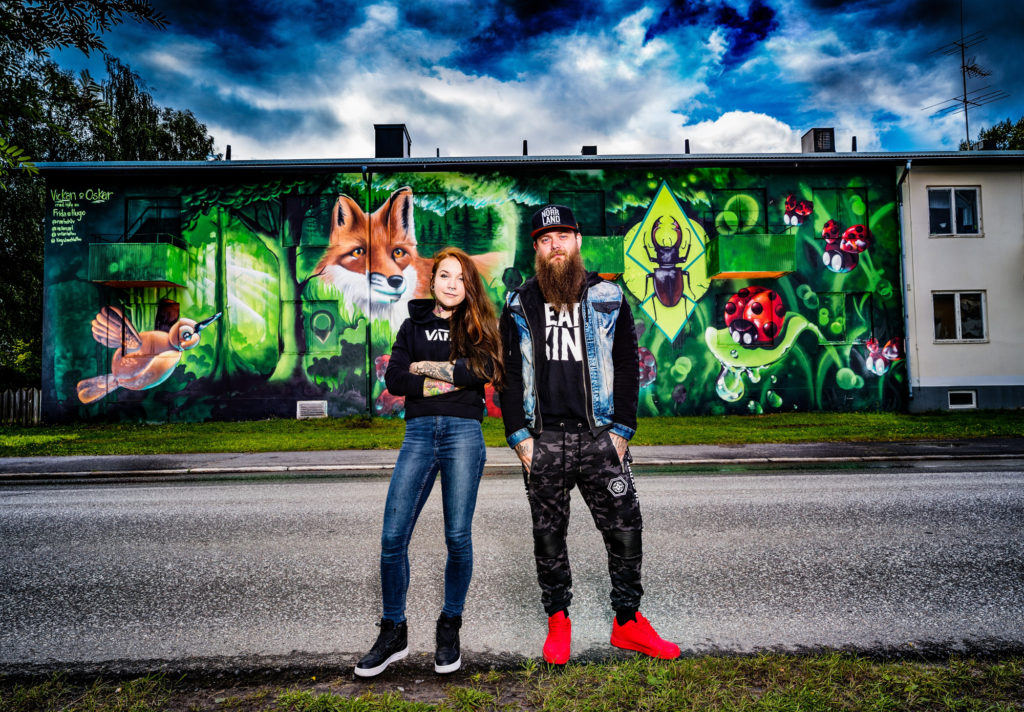 The development
Boden is an eco-municipality. Eco-municipalities strive to be role models and forerunners for other municipalities when it comes to sustainable development at the local level. We try to find a balance between nature and human needs. The municipality has, among other things, through the refining of decomposing gas from Svedjan's biogas plant contributed to a local conversion to alternative renewable fuels and reduced environmental impact. All local buses in Boden run on biogas and also most of Boden's company cars. Our upper secondary school, Björknäsgymnasiet, even has a biogas truck.
Boden is a municipality in an exciting development phase where a lot is happening. Boden Business Park in Sävast creates conditions for the business community to grow. In the area you will find, among other things, the Boden Type Data Center, which is part of the EU's research and innovation program, Horizon 2020. The purpose is to build a prototype for the next generation of energy and cost-effective data centers. The prototype named Boden Type Data Center One is an experimental laboratory and demonstration facility that innovatively combines technologies. The purpose is to test and validate feasibility and usability for a highly efficient and environmentally friendly prototype in real operation.
In Boden, tomorrow's digital creators are also trained at Boden Gamecamp, which is an integrated part of Boden's Business Park – here in Norrbotten, students from all over the world apply for education with good conditions for a career in a digital future industry. The anchoring in the gaming industry has attracted attention both in the media and by well-known gaming studios around the world. This has meant that both international and national game studios such as House of How and Wanderword have established themselves in Boden to take part in the knowledge that is trained on site.
Art and culture
Right next to Boden Business Park, Filmpool Nord has its new recording studio, and if you look up at the hills around Boden, you can catch a glimpse of one of our forts that surround our city and which is part of our DNA. The garrison still characterizes Boden, even though some of the military buildings have now been turned into art galleries, museums, companies or housing for some of the asylum seekers who pass by. Boden has gone from a relatively closed city to an international community; in addition to the northern Swedish accent, more than 90 other languages are now spoken.
The Museum of Military Defense shows our important military history. There are both permanent exhibitions and new ones that all draw attention to society. Until 1997, large yellow signs with strong red frames prohibited foreigners to stay in the area around Boden. At another time, the same kind of signs called out "The Russian is coming" and invited to a mighty art exhibition in one of Boden's most spectacular buildings, Havremagasinet County Art Gallery Boden, 2010 and Boden's role as a military strategic lock to the east was over. The door to the world stood open. Havremagasinet had been transformed into one of Sweden's largest art galleries and has since shown international contemporary art that deals with current themes, all of which, no matter how different the expressions have been and are, touch on topics such as democracy, human rights and freedom of expression.
We try to make the local life in Boden unique. It's a place where the sun often smiles. Here we have just scratched the surface. There is more – much, much more. Come see for yourself!