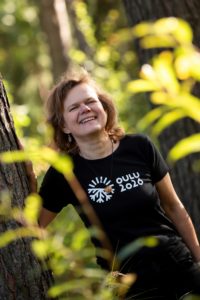 As we go into November, more and more people are telling me how much they're dreading the dark season. "Snow would make all the difference," they routinely add.
As I write this there's no snow in the forecast for at least a week and darkness is taking over at an alarming speed. I couldn't see much in the forest at half past three in the afternoon today. What a contrast to just two months ago, when I was watching the most beautiful sunsets at Nallikari beach at nine in the evening.
This is my first full winter in the north and I wonder how darkness will affect me. It's early days but so far the only change is that I've got into the habit of making a fire in the living room every evening.
I'm also seeing more friends. It's a coincidence that November is shaping up to be the most active month in my social calendar since I moved to Finland. But it's perfect timing: having a good laugh with friends is probably the best antidote to winter gloom.
Sometimes the best laugh comes when things don't go according to plan. Like at my last dinner party when I was cooking a large joint of beef in the leivinuuni for my guests. Imagine my shock when I found out that one of them was a vegetarian just a few hours before they arrived. To save the day, I quickly shoved a large celeriac in the oven as well, seasoned with walnut oil, tightly wrapped in foil.
"What is this?", my vegetarian friend asked with a nervous smile, not even trying to disguise her disgust when I served her what looked like a culinary masterpiece. "A celeriac," I mumbled. "Oh, I see, this is what they normally give to horses," she concluded. "You know, if I have to choose between this and beef, I'll go for the beef." And she did. What not to love about typical Finnish honesty?
Roast beef and fires aside, I appreciate that the start of the dark season will cause more distress to people who've lived in Oulu all their lives. One thing I keep telling them is that despite the approaching winter, in the Covid-19 nightmare that's engulfed Europe, this is the best place to be.
Finland is a safe haven. It's had fewer infections per 100,000 people in the last 14 days than any other country in Europe. The outbreak is under control. There are some restrictions but schools, restaurants, cafes, libraries, gyms and cinemas are all open. Life goes on pretty much as normal.
I spent yesterday at a university lab interviewing scientists who work on the 6G project. Today I'm going to the opening of an art exhibition in Pikisaari. I'm driving to Ruka to ski on Saturday and I'll fly to Helsinki in two weeks. I'll have friends from Turku staying with me in Oulu later in November.
Compare that with France, Germany, Britain and the Czech Republic where non-essential businesses are shut and grandparents can't see their grandchildren. Movements are limited to buying groceries and medicines, households are not allowed to mix and travel is banned. When my friends in London hear what I'm up to, they go green with envy.
Finland is leading Europe in the fight against Covid-19. It's a fantastic achievement. The government has made some sensible decisions but at the end of the day this is our success as a community. All of us who live here should be very proud.
When it comes to choosing between a dark, cold but mostly virus-free place and living in fear in a warm, light but very sick country in the south of Europe, it's no question which one I'll go for.  Sadly it's not just me: the people I'm renting my Oulu house from have decided to cut short their Spanish adventure, sending me on a quest for find myself another house with a fireplace and a levinuuni for Christmas.
Erika Benke, journalist
born in Hungary. Moved to London (-97) to work for the BBC.
Now lives in Oulu and works for the Oulu2026 project.