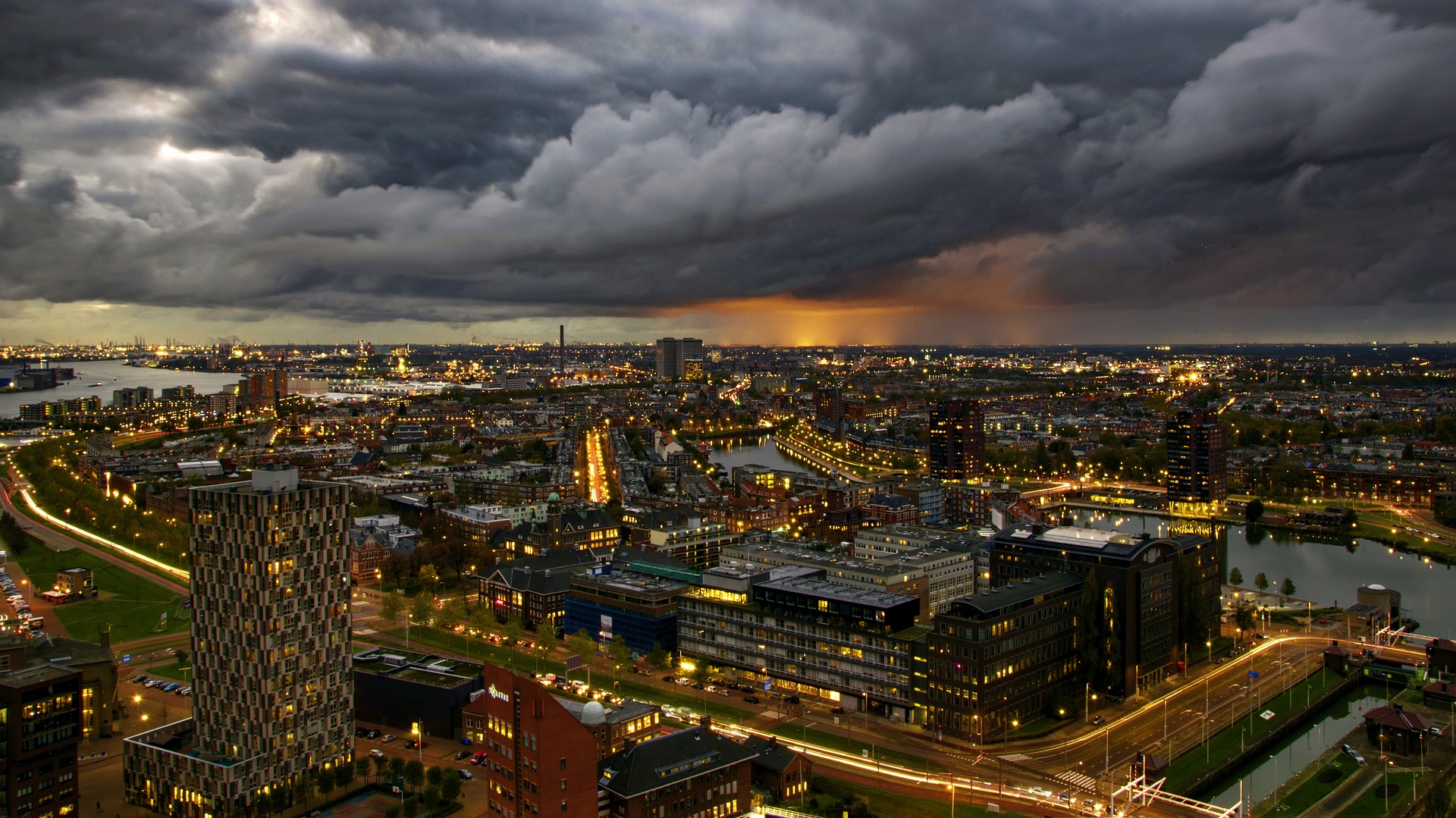 The Dutch city of Rotterdam, which has a population of around 600 000 and is located in the province of South Holland, was European Capital of Culture (ECoC) in 2001 together with Porto of Portugal. Rotterdam is the second most populous city in the Netherlands behind Amsterdam. Furthermore, the city is Europe's largest port and a major industrial, trade and business center. Rotterdam underwent a long period of economic and cultural regeneration after WWII. The city's regional economy experienced rapid post-war growth, but the overdependence on transport and traditional manufacturing in the 1960s led to economic decline. In the 1980s Rotterdam experienced notable growth in the business services sector and managed to attract the headquarters of several large international companies. In the 1990s the city developed their telecommunications, audio-visual services, design and media, which have greatly helped develop the arts and cultural sectors of Rotterdam. From a cultural point of view Rotterdam has always been in the shadow of their Dutch rival, Amsterdam. This competition with Amsterdam has motivated Rotterdam to improve their cultural sector so that they would be known as a cultural city in addition to their image as an industrial port city. The ECoC designation gave Rotterdam the perfect opportunity to continue on this path of development.
Rotterdam's Cultural Capital event (R2001) included 524 project and attracted 2 250 000 visitors. According to survey data around half of the R2001 visitors came from Rotterdam and around 12% from the neighbouring region of Zuid. From the remainder, the majority came from elsewhere within the Netherlands and around 16% came from abroad. The proportion of foreign visitors exceeded the organizers' expectations. The foreign visitors were attracted mainly by notable international events such as the Hieronymus Bosch art exhibition, which was attended by 220 000 visitors, of which 67% were from abroad. It has been estimated that the visitors to R2001 spent around 105 million euros during their stay in Rotterdam, while the budget for the ECoC was 24 million euros.
The ATLAS surveys are useful for evaluating the changes in the image of European cities over time. These surveys have been undertaken with visitors in different European countries during different years, and the respondents have been asked to rank different cities as cultural destinations. When comparing the 1999 and 2001 ATLAS surveys conducted outside Rotterdam, the proportion of visitors ranking Rotterdam as a top 5 cultural destination in Europe increased from 3% to 5%. This shows that the ECoC had a positive effect for the image of Rotterdam as a cultural destination. Moreover, tourism data reveals that the number of tourists in Rotterdam increased in 2002, which shows that the benefits of the ECoC continued after the title year.
References
The Impact of Cultural Events on City Image: Rotterdam, Cultural Capital of Europe 2001
Porto and Rotterdam As European Capitals of Culture: Toward the Festivalization of Urban Cultural Policy