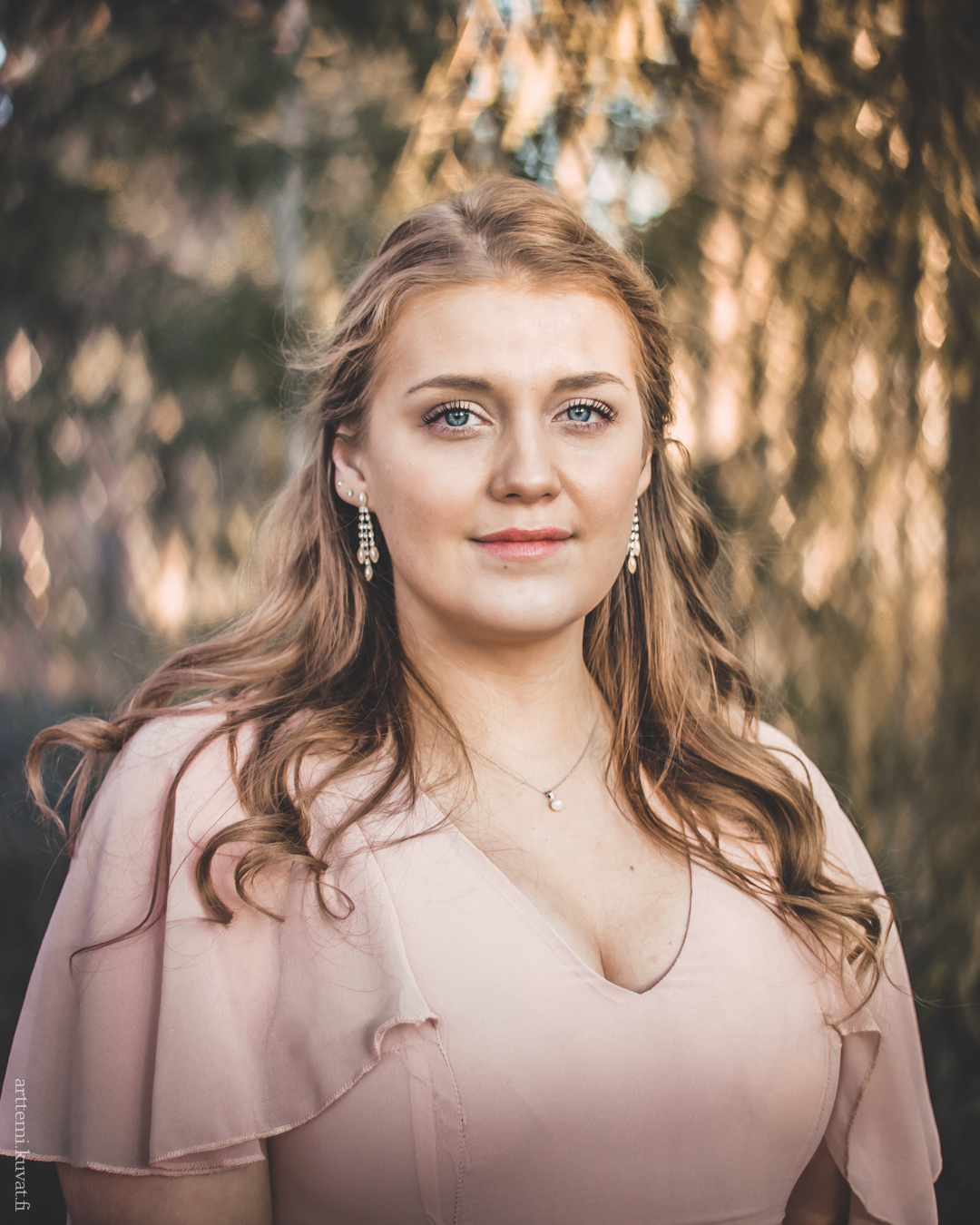 The Cultural Personality of the Week is Sanna Korpi, who originally hails from Oulainen. Sanna Korpi completed her vocal teacher training at the Oulu University of Applied Sciences in spring 2020 under the tuition of Soile Isokoski. The same spring, she also earned a master's degree in music education and qualified as a primary school teacher. Sanna Korpi started her career as a soprano in the Youth Choir of Oulainen in 2008. She is currently studying towards a master's degree is classical singing at the Estonian Academy of Music and Theatre in Tallinn. Korpi has been involved in various choir, opera and music productions particularly in Northern Ostrobothnia. She sang the role of Prince Leo in Jaakko Kuusisto's opera the Princess and Wild Swans in Oulu in 2017 and in the same year the role of Miss Iida as well as ensemble parts in Jukka Linkola's opera Abraham's Banquet (Liminka 2017 & Helsinki 2018). Since 2018, Sanna has appeared in the leading role in the multi-artistic dance work Rauha. Sanna participated in the 2021 Timo Mustakallio Singing Competition in Savonlinna and will next participate in the forthcoming Lappeenranta Singing Competition.
Oulu, together with 32 municipalities in Northern Finland, is the European Capital of Culture in 2026! How do you feel about that?
That's absolutely amazing! I hope that it gives us musicians and artists plenty of opportunities to practice our profession in a new way and to show our skills and talent to the local audiences. Once I return to Finland from Estonia, I would love to be part of promoting the cultural life of Oulu and Oulu Region.
How are you these days? How do you spend your spare time?
I'm feeling great at the moment. I had the chance to relax and see my family and friends over Christmas in and around Oulu. My plan for the spring term is to study hard and finish my studies at the Estonian Academy of Music and Theatre. I also hope that the pandemic is soon well and truly over and that cultural life can be in full swing again.
In my spare time, I enjoy knitting and sewing, doing exercise and being active outdoors. Lately, I've been enjoying Nordic walking and indoor cycling in particular, and I would love to go hiking a bit more in the future. When I'm in Tallinn, I go to see opera and ballet. This spring I would also like to visit cultural events again in Finland.
What does our leading theme, Cultural Climate Change, mean to you?
The purpose of art is to arouse feelings and show different aspects of phenomena. As a theme, the Cultural Climate Change lends itself to observing life and humanity from a variety of perspectives. Art inspired by this theme has the potential of closing the gap between the people and nature. Perhaps it could remind people of our basic values in life and give us a much needed break from the hectic pace of life and consumerism.
How do you find Oulu at this present time?
Because of the lockdown and all that it entailed, it's still difficult to say how I see Oulu as a cultural city at the moment, but the Capital of Culture 2026 title is definitely a crucial injection of life for Oulu and the nearby region. The Oulu region continues to produce a huge amount of artistic talent that deserves the opportunity to shine and claim its space in people's awareness.
What will Oulu look and feel like in 2026?How do you think the Capital of Culture title will impact Northern Finland?
I believe that the title will support the future cultural offering in Northern Finland in general. It would be great to see and hear all kinds of talent across the cultural spectrum.
Photo: Arttu Haimi