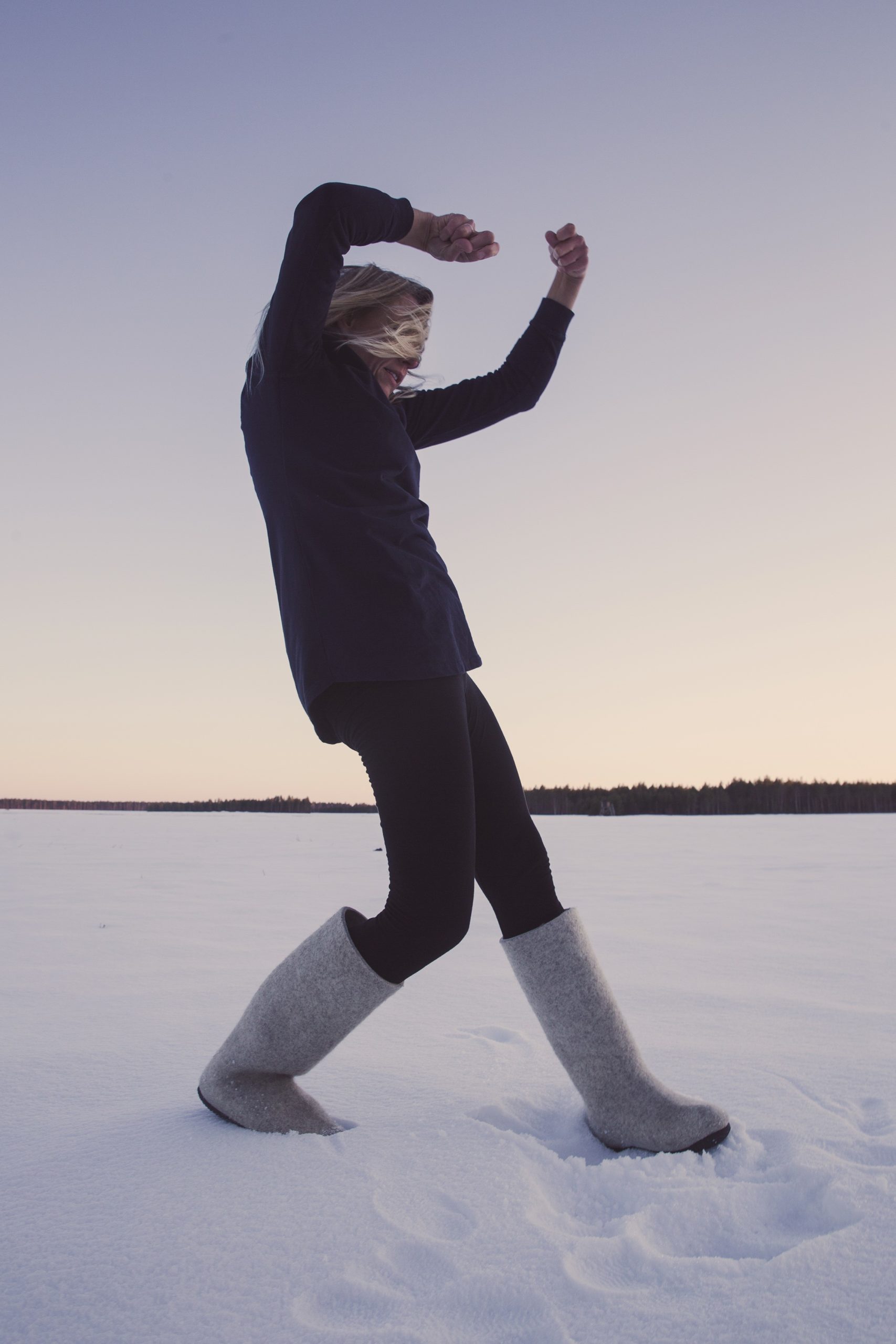 Our cultural personality of the week is Eija Ranta, a movement artist from Hailuoto. Body movements and experiences of movement are her work materials. Since last autumn, Eija has been conducting artistic research and organising movement art workshops to the citizens of Hailuoto that focus on investigating one's own creative movements through different exercises. "Each body movement is individualised, just like one's handwriting is. In my research, I prioritise what happens inside the body when moving, and what is moving the body over what the movement itself looks like." tells Eija.
Oulu, together with 32 Northern Finnish municipalities, is the year 2026 European Capital of Culture! How do you feel about that, Eija?
Absolutely amazing! It is great that Hailuoto, together with other regional municipalities, are involved in the project, and that we are also showcasing small communities and their skills. The Finnish art scene is understandably located mainly in the South and big cities because majority of people live in urban areas. The Capital of Culture title is an amazing opportunity to create new unique experiences outside these urban areas since Europe is now coming to visit us!
What does our leading theme, Cultural Climate Change, mean to you?
Above all, it is the change that will make culture and art accepted as an essential part of people's daily lives and wellbeing.
In my artistic research, I'm searching for ways that allow the viewer to feel a stronger connection to themselves and through that, to the surrounding nature. Creativity is the deepest essence of humanity rather than being something that creative individuals implement. Cultural Climate Change has a far reaching impact to personal wellbeing and through that, to the wellbeing of our surrounding nature.
How do you think the Capital of Culture title will impact Northern Finland?
The journey towards the celebratory year will raise Northern Finnish creators and their skills to a whole new level, and increase collaboration in the whole region in ways that we are unable to imagine. It will create jobs, things to do, experiences and wellbeing, addition to new operational models that will develop into new habits. The preparation for the celebratory year will show what the true value of culture and art is, tangible and intangible.
The European Capital of Culture highlights the importance of collaboration between the Oulu2026 region and the rest of Europe. What can we learn from each other?
Probably a lot. Culture will bring different types of individuals closer to each other, and will give them the opportunity to celebrate our customs and the diversity of our cultures. Art connects, creates new links and ways of understanding that language and verbal communication are unable to do. Living and visiting countries where I didn't speak the language, gave me the opportunity to investigate people's living habits and be together with them without the need for words. Those life situations have taught me the most about life and myself, and have made grow as an artist. Through interaction we can learn to see close again. Through someone else's eyes, we can learn to appreaciate the beauty and uniqueness of the surrounding nature in a whole new way.
What will Oulu look and feel like in the year 2026?
Like the centre of European culture where art and culture have a special position. And its impact carries far into the future.
Photo: Aino Väänänen