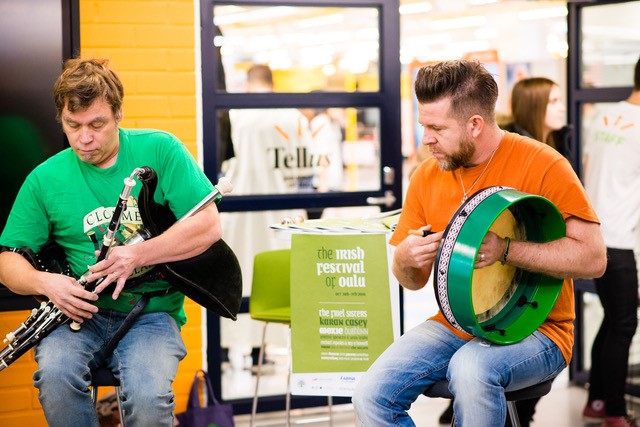 "Éist le fuaim na habhann agus gheobhfaidh tú breac. Listen to the sound of the river and you'll catch a trout -That's my motto."
Our cultural personality this week is Brent Cassidy, an Irish American musician, storyteller and Gaelic speaker from North Carolina who has lived in Oulu for 20 years. Friends call Brent Pentti Kassinen, but he prefers Pentti.
In 2006, Brent founded The Irish Festival of Oulu alongside several friends and fellow musicians as a way to play and experience more Irish music. Yes, it was a wild dream, an Irish culture festival not far from the Arctic Circle, but it has become the premier Irish festival in the Nordics attracting 95.000 people as well as many of the best Irish performers on the planet.
Brent has also been an entrepreneur for 20 years with his company, Gaelic Culture Productions, through which he has co-founded, produced or consulted additional Irish festivals throughout Finland. Currently, he is working to further develop and unite the Irish music and culture scene in Finland for the Finnish artists and fans a like.  As well, he has produced successful Global Greening Irish culture light installations promoting the synergy of Irish and Finnish cultures together that have garnered global attention to Oulu.
"Simply put, it's been all about the craic. My passion burns bright for Irish music and culture and sharing this experience with fans, musicians, friends and colleagues from all walks of life is the most rewarding aspect of all." Brent summarizes.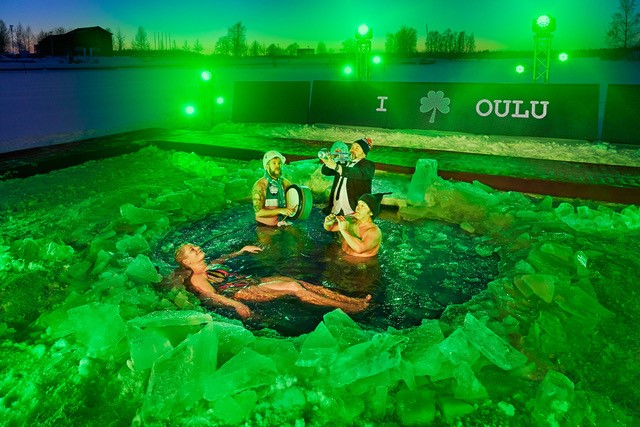 Photo: Mikko Törmänen / The Global Greening Photo in Ice
Oulu, together with 32 Northern Finnish municipalities, is the year 2026 European Capital of Culture! How do you feel about that, Brent?
I think it is brilliant because now people from Europe and the world will easier discover the beauty and cultural richness of Oulu and the Northern municipalities, something that has drawn people like me here to begin with many years ago. Cultural tourism will increase and more people will experience our cultural events, the beauty of our region and this will inspire and increase the opportunities for Oulu and its citizens.  Together, we all have the opportunity to be creative and hospitable welcoming people outside of Oulu and Finland here. We, the people make Oulu special!
What does our leading theme, Cultural Climate Change, mean to you?
To me, Cultural Climate change means more opportunities, recognition and cultural funding to those of us artists and organisations working in the 3rd sector who have been professionally, persistently and passionately promoting and organising cultural events and our own productions in Oulu for years. We truly work with passion and a high quality professional level. I hope the change comes to better support us, the northern 3rd sector actors and organisations especially, who have challenges in cultural funding success when compared to the support that is distributed in Finland as a whole, especially in the south.
How do you find Oulu at the moment?
Oulu is a northern treasure with a rich cultural history with much to offer its people and visitors. As an Oululainen ihiminen, Oulu has a wonderful northern Finnish character, culture and humour that is colourful and attractive. I mean, Oulu is home to some really creative culture events, people and artists. As the Irish culture mecca of Finland, it's amazing that here Irish music and culture and The Irish Festival of Oulu can flourish and all of our visitors especially from abroad always comment on the hospitality of the Oulu citizens they meet and share experiences with. "We are all in Oulu" has always been our theme, meaning also "why are you not here? Oulu is truly the place to be. "
How do you spend your spare time?
Playing traditional Irish music, surfing, SUP boarding, mountain hiking, cooking, smoking pulled pork barbecue the national dish of North Carolina, writing, cross country skiing, open ice swimming, enjoying Oulu nature, playing UNO, and spending time with my friends and especially time with my family.
What will Oulu look and feel like in the year 2026? How do you think the Capital of Culture title will impact Northern Finland?
I hope Oulu will look and feel culturally wiser with a more forward thinking mindset in regards to supporting artists, culture sector operators and agents while enhancing inclusive opportunities for all people living here. The Capital of Culture title will further promote the cultural tourism and richness of Northern Finland.
Cover photo: Sergei Kopytin. Brent (on the right side) performing at the University of Oulu's Festival of Cultures with Markus Lampela