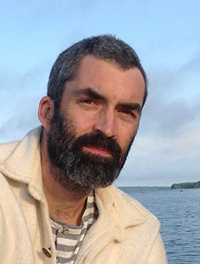 Originally from Canada, Blair Stevenson has lived and worked in Oulu on-and-off for 20 years. Oulu is Blair´s home along with his wife and 16 year old son.
Blair´s professional background is as an educator and entrepreneur. Currently, he works as a principal lecturer in the Department of Media and Performing Arts at the Oulu University of Applied Sciences. For the last year, he has also been providing part-time support for the Museum and Science Center Luuppi and the Oulu 2026 bidding team.
Blair, how does your life look like and feel now, during these exceptional times?
"I believe that the global Coronavirus situation has forced us to re-evaluate our lifestyles and re-examine what is important to us. Now more than ever, we need to make the effort to stay connected with family and friends and take care of the well-being of ourselves, our families and our communities."
How does Oulu look like through your eyes right now?
"Oulu has been a very resilient city and has been a great place to raise a family. I still see it as a growth destination for young families and businesses. Ultimately, I believe that Oulu is on the cusp of even greater things."
Oulu is bidding for the title of European Capital of Culture (ECoC). What makes our region the best candidate for the title?
"Oulu will be a fantastic European Capital of Culture, not only because of the ideas and people here, but because I believe that there is a very special northern Finland approach to life which we can demonstrate and share with the rest of Europe. I expect Oulu's long history and globally recognized expertise in the field of technology to be leveraged into developing internationally-minded innovations and exceptional art and cultural events that both local people and all Europeans will enjoy."
Send your regards to the Oulu of 2026, when we are the European Capital of Culture
"Oulu in 2026 will be an incredible place to explore new ways to see ourselves as co-creators of culture and as citizens of Oulu, Finland, Europe and the world!"