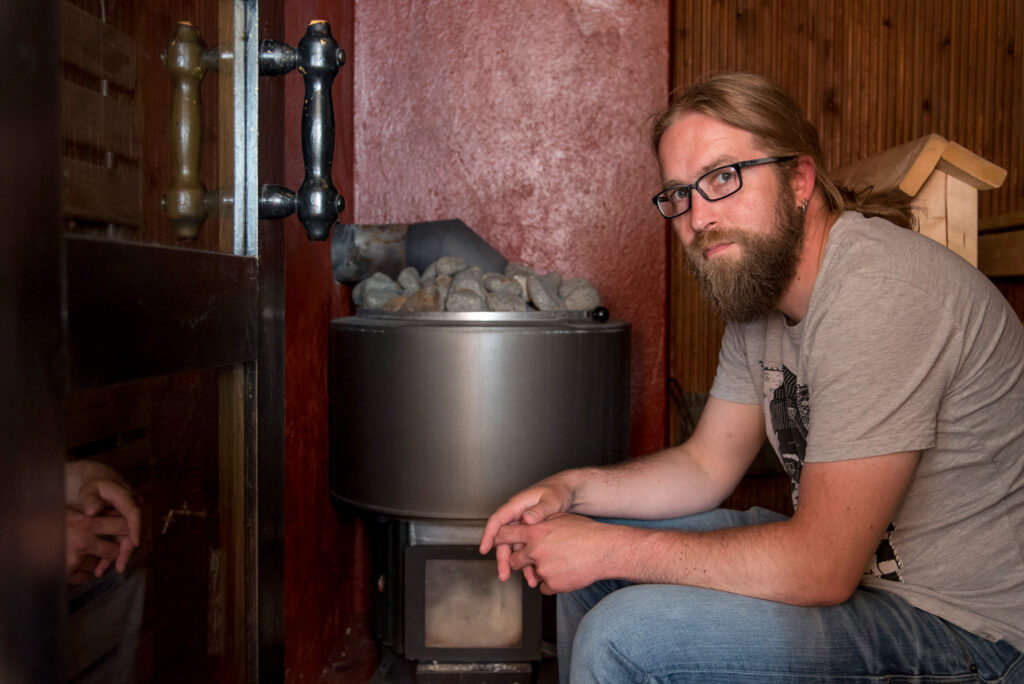 I am Harri Filppa, originally from Kempele. Nowadays I live in Oulu and work as a comic artist and the CEO of Oulu Comics Center.
How's your life at the moment, during these rather unusual times?
When it comes to Comic Center, I work remotely. The day-to-day life of a comic book artist hasn't changed that much, though performances have been cancelled or moved all the way to the end of July.
I've always often worked from my home office, but even more so during the last few months. My wife Reeta and our three-year old daughter Vieno have become more important due to shrinking of our social circles. We've spent a lot of time inside the four walls and advancing the eternity project of renovating the old house.
Work load at the Center has easened and I'm already on summer vacation, which I'll continue with unpaid vacation to keep the Association's economy in balance. However, I did receive Corona funds from Taike for my personal work. It saved our household, given the situation.
How do you see Oulu right now?
As I step into my yard in Karjasilta, I see an empty street. I can, however, hear hammers and circle saws in multiple directions. I haven't ventured far from my home during the last month.
Some of Oulu's cultural people have become more active in electric media. The amount of virtual material has grown. I think it quite fits Oulu and its image of a technological city.
I carried out educational comic workshops for Oulu Comics Center, which were released in YouTube. The workshops were meant to compensate for Comics Center's cancelled comics courses and workshops.
https://www.youtube.com/watch?v=S8CvboWY3kU
https://www.youtube.com/watch?v=ANcecxR8lsk
Viral comics festival was implemented this Easter, April 11th and 12th. It was a new kind of comics event in social media, implemented out of love for comics and to compensate for cancelled events. Some of the festival's content can still be viewed: https://www.oulucomics.com/viraali/
Since cultural institutions have shut down, the number of coincidental contacts has dropped and I find myself more in contact with cultural people closest to me. Others I see via livestreams found in social media. Take for example Vastarannan Siili -drawing concert, held live 5th of May at 13:00. https://www.youtube.com/watch?v=6Cuf6I9VS1k. You can find me in there as well!
Think one year from now. Where are you, how's your life?
One year feels much longer during these times. Work assignments are finding new forms. I surely will have advanced with digitalisation. My aim is to have more material available via social media. There could be more audience that way.
Oulu Comics Center and Sarjasto will have taken a new step. I hope we are able to use digitalisation and other emergency arrangements as assets for Oulu's comic scene.
My comic novel about the 90's recession will be in good shape. Comic book artist's work is very lonely and involves much sitting, so when it comes to that, it doesn't really matter if we're allowed to go outside. I want my comic book as a print, even though the world is taking a giant step towards the digital.
I sure hope COVID-19 will be under control next spring, both globally and in Finland. I'd like to plan next year without fear of sickness.
Oulu is bidding for the title of European Capital of Culture 2026. Why should Oulu win the title, what makes us the best candidate?
Just the bidding process will lift the content of local culture to a whole new level, should the funding be channeled towards producing culture. I'd like to see culture as a force against alienation and social inequality.
I think the goal of Oulu2026 is to find local cultural attractions. Oulu's diverse field of comic art can answer to this search and simultaneously develop the region's extensive library network. Extensive representation of Oulu region's comic arts is a remarkable factor in telling the tales of this region. Our art combines visual arts and literature, and can be used to effectively send messages to readers.
Oulu is the best choice for ECoC 2026, since in the region there's a lot to be developed in showcasing and producing culture and in making it accessible. Culture isn't just artworks in museums, it should also stem from urban landscape, the citizens, and nature.
What do you want to the Oulu of 2026, when we are the European Capital of Culture?
Happy new year 2026, Oulu and its citizens! At last, culture will fill up the whole Oulu region. Capital of Culture year will open new possibilities both for the producers and consumers of culture. Many events and services will come here to stay. It's always a good time to enjoy culture!