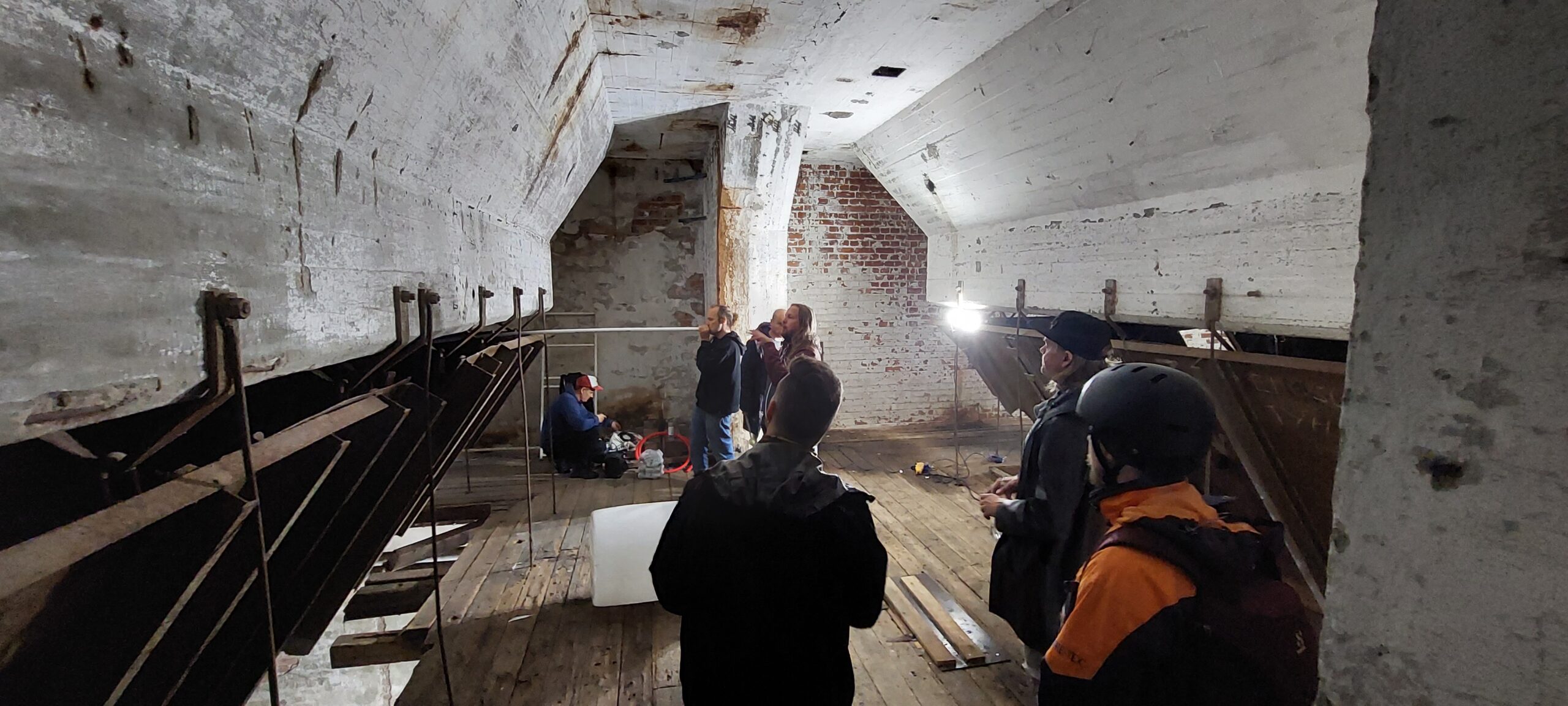 Our cultural personality of the week is  Transistori, an experimental sound art collective from Oulu and the highlight of the "Farewell to the Hoppers" musical event. The collective specialises in playing buildings, structures and scrap.
From the very start, Transistori has been more about playing in the moment than more traditional band stuff, which all the members have also tried. Currently, the group consists of professionals from various fields: event producers, construction professionals, a translator and several others, but all are more or less musicians and culture buffs.
"All of us have lived in Oulu at some point of our lives, and that is where the collective was born at the turn of the 21st century", say Aki Latvamäki and Jaakko Jokipii.
In the future, Transistori will continue to specialise in playing buildings.
"We have come a long way in developing our own genre, 'emergent transformation ritual', and are determined to develop it further", adds Jaakko.
Aki believes that "Farewell to the Hoppers" will be an event to remember and reminisce about when old and grey, and Jaakko is expecting to turn a new page for silos, Transistori, as well as Oulu's preparations for becoming the Capital of Culture.  Lauri Sallamo is expecting the event to be a nod towards the past and a gaze towards the future. Pekka Heinonen is expecting something to move.
"I'm looking forward to forgetting everyday life for a moment, to be one with the space, sound and the fellow players and spectators", adds Pekka.
What are you up to these days? How do you spend your spare time?
"This autumn has been very busy, lots of travel and events. The effects of the pandemic on culture are over, at least for now, and it seems that something is happening everywhere", says Aki.
"Work takes up most of my time but there has been a lot of theatre and music as well", says Lauri.
"All sort of basic stuff of a middle-aged person with a family, both at home and at work. My free time is filled with interesting projects, such as this silo gig", says Jaakko.
"The band is doing great. We are getting gigs after a 17-year long break! My summer holiday just started, and I've even had time to play Kimble with my son. I spend my free time with music and assembling a shelf", says Pekka.
What does our leading theme, Cultural Climate Change, mean to you?
According to Lauri, culture produces unmaterialistic, spiritual capital, which promotes well-being.  A positive Cultural Climate Change would mean a better setting for creating art through improved attitudes and increased financial aid.
"I see many opportunities in Oulu for a positive change in the cultural sector. However, the biggest challenge is to get the large crowds to act and consume in a new way, just like with climate change", says Jaakko.
"In Oulu, a Cultural Climate Change probably means that caravanners drive less and the hockey season is about to start again  But I do hope that the future Capital of Culture project will bring investments also in other areas of art that people in Oulu often see as tinkering. I also hope that the project will offer an opportunity to the artists themselves, the most sensitive of which have always felt paralysed by this rather rural and competitive cultural environment", says Pekka.
What is it like to work in Northern Finland? How do you find the Oulu2026 region at this present time?
According to Aki, the Oulu2026 project has stimulated the region, which is most evident in people getting excited about new opportunities.
"Northern Finland is far away from everything and separated from the cultural reality of the South. It seems to be difficult to give us prominence in the media of this sector, and it is a long way to travel to a gig in the south but that is not always reflected in the pay", says Aki.
"On the other hand, people have always travelled further away from Oulu to Europe and the world when they have discovered something new instead of hoping people in Southern Finland to understand something about it", says Jaakko.
Lauri believes in diverse cultural activities, and he feels that such activities have been brewing under the surface for a long time in Oulu.
"Oulu2026 encourages people to bring all that forward, and hopefully the project will give culture a permanent prominence and higher esteem in our city and the surrounding area", says Lauri.
"We live at the end of the world, and it takes a while for civilization to arrive. This makes Oulu a very unique environment for innovations and originality but it is also a big challenge for artists to find their audience, forum, environment or their own margin in which to grow and flourish. The challenges presented by the environment steer the path of many artists away to look for an audience. However, there are a lot of wonderful people and places in the Oulu region and Northern Finland, which is why my path has remained here, winding its way around this landscape and atmosphere. Here, you need to be persistent and determined to create a new foundation for your work time and time again", says Pekka.
What will the Oulu2026 region look and feel like in 2026? How do you think the Capital of Culture title will impact Northern Finland?
"The title does not have as large an effect as the financial activities and encouraging atmosphere surrounding it, which has been wonderful to see. But the region looks and feels a lot worse than five years ago. The centre has shrunk and the number of venues has decreased.  A new gym in the very core of the city centre tells a grim tale of the current situation. For several years, culture has gone underground. It's not necessarily a bad thing but it does less to revitalise the centre, and it would be important to bring the centre back to life. I hope that the Capital of Culture projects will bring a permanent change", says Aki.
"I think that our year as the Capital of Culture will increase the amount of unique local art and culture activities. Of course, the mandatory operas and such will be handled as usual, but the real change lies in original creations", says Jaakko.
"I hope that in 2026 culture makers will have more work, perhaps even jobs that pay a real salary. I believe that the title will help achieve this scenario, but money and opportunities could easily be wasted if we select people who are more interested in money than in art to implement Capital of Culture projects. This often happens when we keep hearing how much capital is flowing into the area, etc. At least the artists and the City of Oulu have another opportunity to showcase their art and our Northern culture", says Pekka.
What inspires you?
"Chaos", says Aki.
"Aki", says Lauri.
"Complexity and Aki. And Lauri and the other players in Transistori", says Jaakko.
"Dissonance, distortion, colours, worn surfaces, people", says Pekka.
What does culture mean to you?
Jaakko describes culture as a manifestation of the collective consciousness of the mankind, and Lauri sees culture as creating a common sense.
"Culture is a prerequisite for communities and living side by side, just like a common language. The more colourful, the more rich and plentiful", says Pekka.
What could the Oulu2026 region do to improve the position of creators and consumers of culture?
"There are not enough affordable and easily accessible practice spaces for bands, and the number of venues is decreasing. We could use more of both", says Aki.
"We could be bolder to try new forms of financing, such as capitalisation of cultural operators and financing of experiments. Coaching of cultural operators or supporting their work could improve a cultural life and job satisfaction", says Jaakko.
According to Pekka, the situation of producers and users of culture could be improved by viewing culture as any other basic need of decent life, such as electricity, water, food, ice hockey, etc.
"Culture is what it eats, and we have to feed it well to maintain well-being", says Pekka.
What does it mean to you to be from Oulu and how is that evident in your work?
"At their best, the people of Oulu are crazy and ready to do all sorts of weird projects. That is what we do", says Aki.
"The people of Oulu are the Japanese of Finland", says Jaakko.
"Being from Oulu is me and everyone else who occasionally makes the mistake of enjoying the surrounding atmosphere and climate", says Pekka.
Photo: Jukkis Määttä.
———————————————————————————————————————————
On 24 September, Factum Foundation and Oulu2026 organise a free outdoor event in the iconic Toppila Silo designed by Alvar Aalto. The event is part of the Oulu2026 Villisti Kaupunki (Wild City) theme. The "FAREWELL TO HOPPERS" music event starts at 24th Sep at 4 pm with performances by local DJs and audio-visual artists in the AaltoSiilo yard. The evening culminates with a performance by the percussion band Transistori inside the silo. The performance is streamed outside which the audience can watch on a large LED screen. You can also watch the event on Twitch and Oulu2026 Facebook
Event schedule, 24 September 2022
4–7 pm  DJs: Crash Doom, Miha, Otilia
7–8 pm  Audio-visual performance Ohmudog
8–9 pm  Transistori
Venue:
AALTOSIILO, Alvar Aallon katu 5, 90520 Oulu
The event is free of charge.